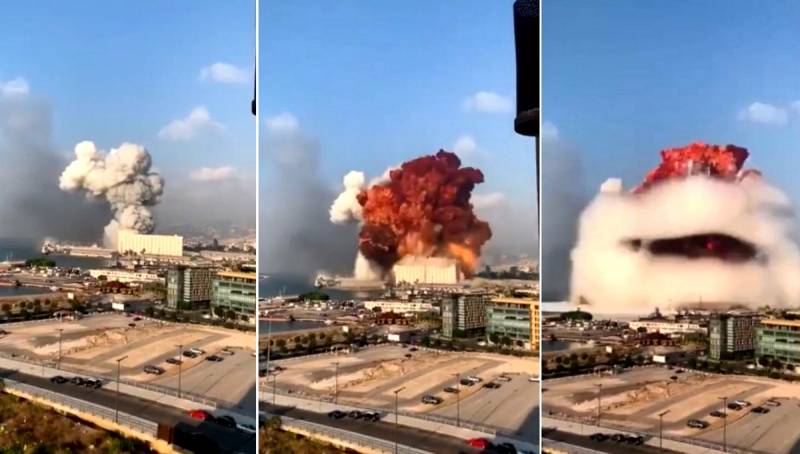 On August 5, two explosions thundered in Beirut, one of which practically destroyed the port and in one way or another damaged about half of the buildings and structures of the city. The Lebanese experts estimated the detonation power at 1,8 kilotons in TNT equivalent.
According to eyewitnesses, at first a column of smoke was visible over the port, and then a violent explosion thundered, leaving behind a mushroom cloud over the city. The blast wave destroyed many buildings and overturned cars. It is reported that about 100 people became victims of the incident, about 4 thousand people were injured. However, there may be more victims, since many people are under the rubble of collapsed buildings. The city's hospitals are overcrowded - the Lebanese Red Cross reported.
According to the BBC, Beirut's port infrastructure has been almost completely destroyed - a heavy blow to the country.
economy
which is mostly built on imports. The explosion was so strong that it was heard even in Cyprus, located at a distance of 240 km from Beirut.
The blast wave damaged the consulate of Kazakhstan - the consul of the country received minor damage. The Russian consulate was also hurt, where one of the employees was injured. According to the UN, the explosions damaged the warship of the organization's peacekeeping mission. Among the victims were several employees of the German consulate.
According to Lebanese President Michel Aoun, the explosion was caused by the detonation of 2750 tons of ammonium nitrate (ammonium nitrate) stored in the port of Beirut without taking necessary measures.
equipment
safety - hazardous substances have been stored there since 2014.