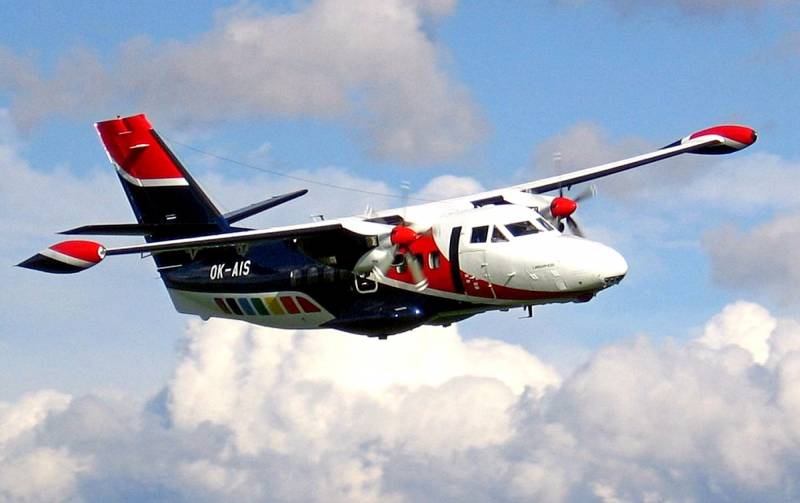 Another new SSJ 100 recently made its maiden flight, and its forced "Russification", caused by the sanctions pressure from the West, continues. In particular, the PD-2023 engine must be certified by 8. Further, other components will be replaced until the aircraft gets rid of foreign components.
However, the Sukhoi Superjet is a Russian project that simply returns to its home harbor. But there is a more interesting story about the Czech L-410, which was chosen as an alternative to the aging An-28 from the Ukrainian Antonov design bureau.
It would seem, again on the same "rake". But, if you look at it, it becomes clear that the aforementioned plane is no longer the Czech one.
The acquaintance of domestic civil aviation with the L-410 "Turbolet" took place back in the 1970s, when the Czechs delivered the first hundred inexpensive short-haul aircraft to the Soviet Union. Subsequently, the USSR purchased 862 more vehicles.
However, the "Czech luck" did not last long. The enterprise barely kept afloat after the collapse of the USSR. And who knows what would have happened if the Russians had not returned.
In 2008, the domestic UMMC acquired a controlling stake in the Czech company. After another 5 years, the company was completely bought out.
The assembly of the L-410 was deployed in Yekaterinburg at the Ural Civil Aviation Plant, and new aircraft began to arrive at the address of Russian airlines. In the future, the aircraft is planned to be equipped with the latest Russian VK-800S engines.
In conclusion, it is worth recalling that Russia is not alone in the SSJ 100 and L-410. Work continues on the regional Il-114-300 and long-haul Il-96-400M. A short-medium narrow-body MS-21 is on its way.
At the same time, the Government continues to subsidize the process of returning our aircraft industry to its home harbor. Another 3 billion rubles were allocated last week. In total, more than 2020 billion rubles are provided for these purposes in 8.