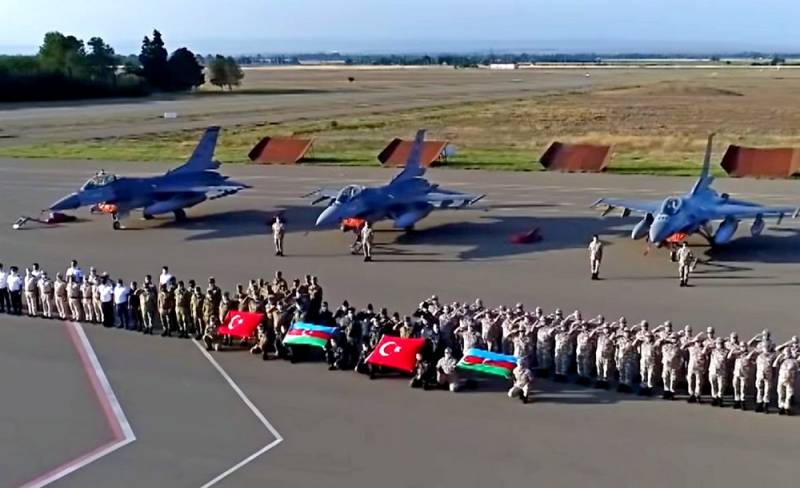 Turkish F-16 multipurpose fighters in the amount of five units arrived in Azerbaijan on July 31 to participate in the TurAz Qartalı-2020 military maneuvers. This was reported by the Defense Ministry of Azerbaijan.
As part of joint exercises, the Turks previously
threw
attack helicopters T-29 ATAK to the territory of Nakhichevan. Turkish-made multipurpose helicopters were delivered to the military airfield on transport aircraft and immediately put on alert.
An armored vehicle will take part in the exercises of the Azerbaijani and Turkish military
technique
, aviation, mortars and artillery installations, air defense systems and air defense systems of both countries. From August 1 to 5, exercises of ground forces will be held in Nakhichevan and Baku, and from July 29 to August 10, aviation maneuvers will be held in Yevlakh, Kurdamir, Ganja, Nakhichevan and in the capital region of Azerbaijan.
Experts call the joint military maneuvers of the two neighboring states a response to the aggravation of the situation in the Transcaucasian region in connection with the conflict between Baku and Yerevan in the northern part of the common border earlier this month, as well as to the subsequent exercises in the Southern Military District of the Russian Federation.
Meanwhile, on July 31, a check of combat readiness was carried out in the Armenian troops. The country's Defense Ministry noted that the event was held in accordance with the previously approved combat training plans for this year.