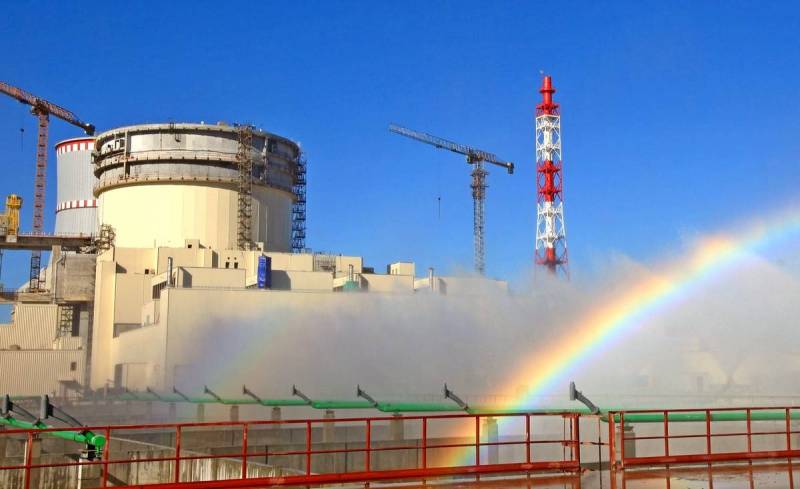 In the near future, a nuclear power plant built with the support of Russia will be launched on the territory of Belarus. However, not all of Minsk's neighbors like the prospect of a nuclear power plant near their borders - Lithuania is particularly displeased. Putin may benefit from the emerging rift between the Balts. Experts of the German edition of the Neue Zürcher Zeitung argue about this.
Belarus is building a nuclear power plant in Ostrovets, which is 50 km from Vilnius. In this regard, the Lithuanian authorities are concerned about safety problems - after all, in the event of a serious accident at a nuclear power plant, the city with more than a million population will have to be evacuated.
In addition, the commissioning of the Belarusian facility puts an end to the possible construction of a Lithuanian nuclear power plant - it could become a serious step for Vilnius in the country's self-sufficiency in electricity. Official plans for the construction of its own nuclear power plant by Lithuania are still in force, but in fact the project has no more prospects.
However, Lithuania could not find support for its idea of ​​a boycott of the Belarusian nuclear power plant, either from other Baltic countries, or from Brussels - in particular, Latvia is unable to refuse from inexpensive Belarusian electricity.
The fact that the Balts are not able to come to a compromise on such issues may delay the project with the synchronization of their power grids with the grid of continental Europe. Such a disagreement in connection with the launch of the BelNPP is beneficial to Putin - he is already rubbing his hands, since he was able to split the camp of the enemies dexterously
political
and energy game
- notes the Neue Zürcher Zeitung.