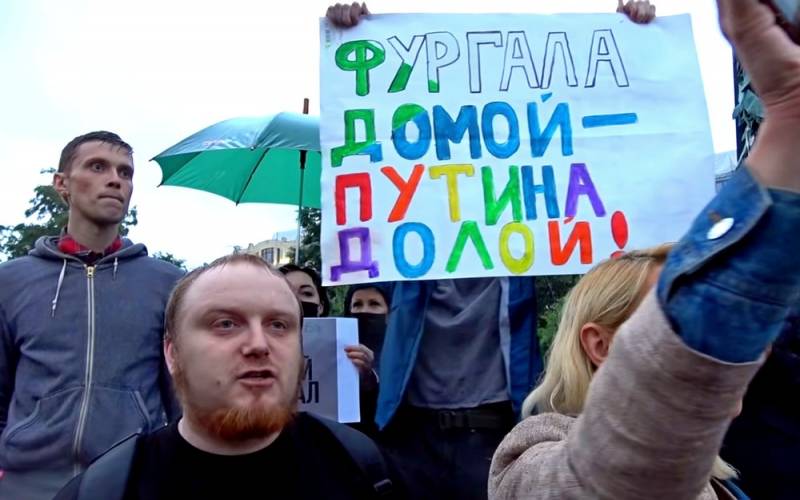 Tens of thousands of Russians are demonstrating in Khabarovsk, the anger of the whole city is directed against the Kremlin, as people no longer trust Russian President Vladimir Putin, writes the German newspaper Tagesspiegel.
Large protests in Russian regions are rare, so what is happening in the 600-strong capital of the Khabarovsk Territory, located more than 6 thousand kilometers east of Moscow on the banks of the Amur River on the border with China, is impressive. On July 18, 2020, Khabarovsk residents once again took to the city streets. According to media estimates, between 15 and 50 people took part in the demonstration against the arrest of Governor Sergei Furgal. A week ago there was a similar protest action, which took place not only in Khabarovsk, but also in other cities of the region.
Sergei Furgal is a representative of the Liberal Democratic Party, who surprisingly defeated a candidate from the pro-Kremlin United Russia in regional elections several years ago. Now the authorities are accusing him of committing several murders of business people 15 years ago. Furgal is now arrested and is in custody in Moscow. He denies all charges.
The governor's supporters consider his arrest politically motivated. They call it an attempt by the Kremlin to eliminate an opponent of the ruling party because Furgal has become too popular for Moscow.
He is our governor! And we will protect him
The demonstrators chanted.
People demanded that the trial of Furgal be held in Khabarovsk, and not in Moscow. They do not exclude that the accusations against him can be confirmed. However, they are interested in why law enforcement officers have been inactive for so many years.
Moscow, go away!
- the protesters shouted.
People do not like Moscow's excessive influence on what is happening in their region. This could be a signal to the Kremlin of growing resistance to the Kremlin.
The Russian authorities have already begun to act. The mayor of Khabarovsk urged people to stay at home due to the high risk of COVID-19 infection. Units of the National Guard were transferred to Khabarovsk from other regions, and the FSB warned of the risk of terrorist attacks.