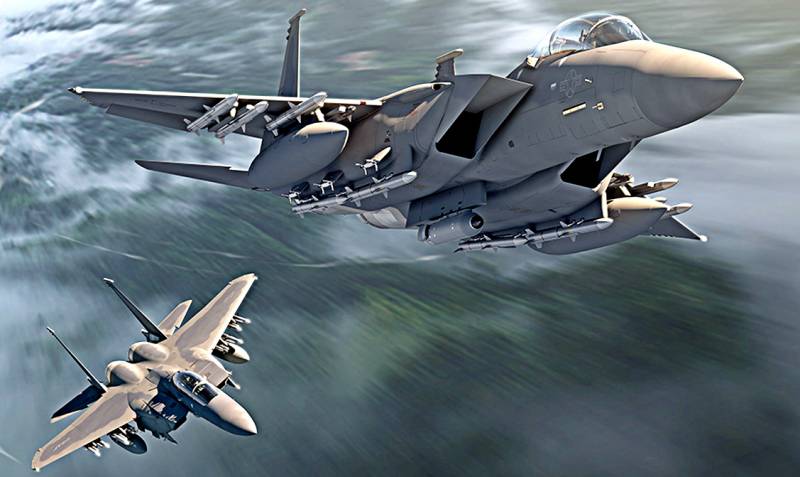 The Pentagon and Boeing have signed a contract for the construction of modernized F-15EX fighters. This was reported in the press service of the aircraft company.
The document states that the first batch will consist of 8 fighters, two of which will be transferred to the US Air Force in the second quarter of 2021, and the remaining six in 2023. The amount of the current contract is $ 1,2 billion. The aircraft will be placed at the base of Eglin (Florida), where the latter will be tested.
Moreover, in the future, the Pentagon plans to "acquire" 144 modernized F-15EXs, which will replace the F-15C / D. In this regard, an unlimited contract worth $ 23 billion has already been announced.
It is worth noting that the new modification of the fighter will make it the hardest in its class. The combat vehicle will be able to carry 22 air-to-air missiles or 28 SDB adjustable bombs.
In addition, the F-15EX will receive a reinforced fuselage and wing structure, advanced equipment, including radar warning systems and missile launches, as well as new engines. However, the main "highlight" of this model will be the ability to launch hypersonic missiles up to 7 meters long and weighing up to 3,2 tons. Presumably, we are talking about the Lockheed Martin Missiles and Fire Control missile being developed by the AGM-183A ARRW.
And finally, the F-15EX will get another undeniable advantage. Unlike other modern fighters, including the F-35, it will be able to accelerate to three Mach numbers, which in turn will provide hypersonic weapons with a good starting speed.