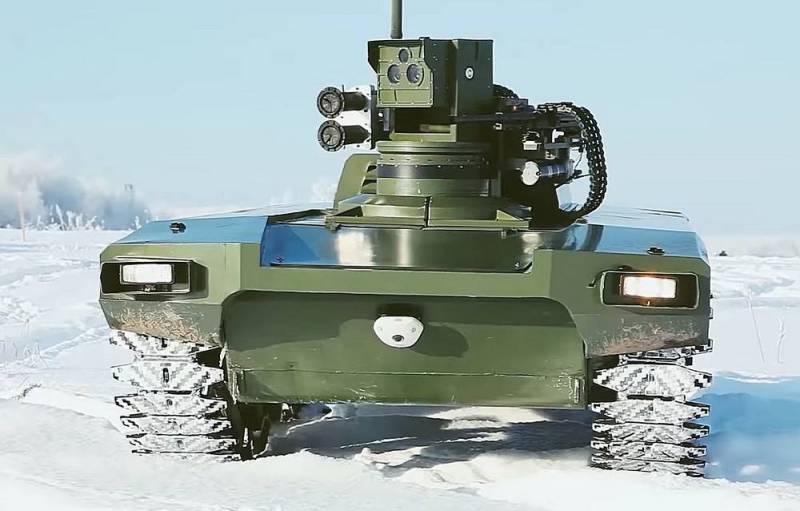 The Marker robotic platform successfully passed the first stage of the state testing program. The second will begin in August, and the Ministry of Defense will receive the robot in a year. This was reported on the eve of the FPI.
It is worth noting that for the first time an attempt to create a stand-alone combat platform designed to support infantry units was undertaken by the Pentagon. One of the most famous American robots is the "walking" BigDog from Boston Dynamics.
According to studies, in terms of cross-country similar drive is significantly superior to tracked or wheeled. However, managing BigDog turned out to be much more complicated than classical platforms.
In particular, the American robot could not be taught to clearly perform voice commands, as indicated by the failed tests of 2017. Therefore, effective control of the machine is available only from the remote control, which requires the involvement of one fighter in the process, thereby reducing the value of such support.
Over the past three years, Boston Dynamics has significantly improved its robots, even creating a civilian version of the "dogs." However, the Americans failed to teach the car how to recognize voice commands.
Based on the foregoing, of particular interest is the statement by the head of the FPI, which mentions the verification of the possibility of effective management of the Russian "Marker" voice. Tests will be conducted as part of the second phase of state testing. If our engineers manage to realize what the Americans were too tough for, then the Russian robot will become the first autonomous combat platform that can be controlled as a living soldier.