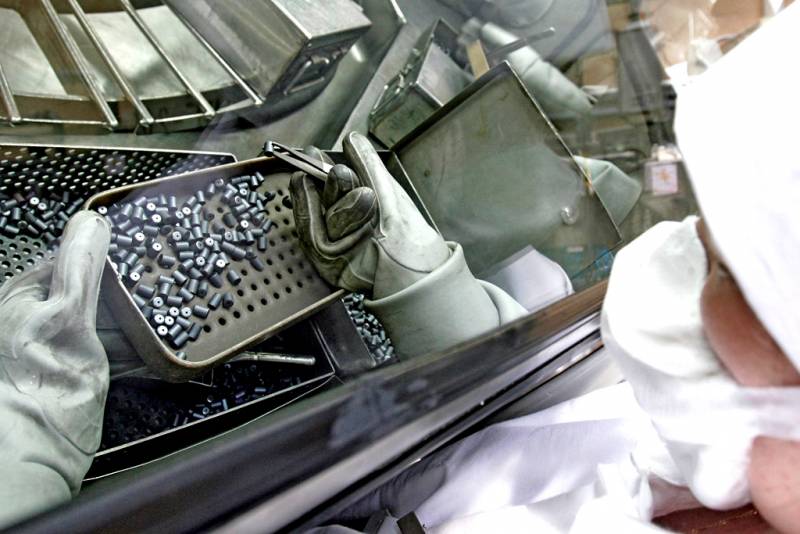 A week ago, a statement of the main Ukrainian naval commander, Alexei Neizhpapa, that Kiev was ready to return Crimea, despite large losses among the civilian population, caused a great public outcry. We have only
laughed
since the military potential of Independent does not allow this to be realized. However, now it becomes no laughing matter. Apparently, Ukraine began to return to the status of a nuclear power.
As you know, Kiev abandoned its part of the nuclear arsenal inherited from the USSR in exchange for international security guarantees under the Budapest memorandum. Be that as it may, in 2014 these guarantees did not work: Crimea and Sevastopol went to Russia, and two unrecognized republics formed in the Donbass. Igor Smeshko, the former head of the State Intelligence Agency of the Ministry of Defense of Ukraine, comments on this as follows:
If the Budapest memorandum is not implemented - sorry, we have every opportunity to withdraw our obligations to be a nuclear-free state. FROM
technical
from the point of view, the restoration of Ukraine's nuclear potential is absolutely possible.
The idea of ​​returning an Independent Nuclear Status is very popular in this country. They believe that the presence of a nuclear arsenal, coupled with delivery vehicles, would prevent annexation. Well, it is possible that it is. The members of the "nuclear club" have always been in a special position, therefore they carefully strive to make it as closed as possible.
It remains to ask what Kiev will do, if he gets the atomic bomb tomorrow. It is worth recalling the very emotional statement of the "woman with a scythe" by Yulia Tymoshenko from 2014 about going "to wet these damned katsaps with the help of atomic weapons". If anything, Yulia Vladimirovna is not some kind of marginal, but a systematic respectable politician who claimed to become the president of Ukraine.
To become more terrible, now we need to move from general words to specifics. In the Dnipropetrovsk region, the development of uranium at the Sur and Novogurov deposits began. The first will produce from 100 to 300 tons of radioactive ore per year, the second - another 180 tons. Plus, another 150 to 200 tons per year will come from the Safonovskoye and Mikhailovskoye deposits in the Nikolaev region. Hazardous raw materials will be removed to the surface in an open way, which will definitely lead to radiation pollution of the surrounding area. Security forces protesting against this local residents were accused of "unpatriotic".
The development of uranium ore in this way will give Ukraine a large amount of rough concentrate (yellow cake) in a matter of months. The most interesting thing is that it will not be transported from there to the Eastern Mining and Processing Plant, a specialized enterprise left over from the times of the USSR. A certain LLC "Nuclear Energy Systems - NPPs" was created for the processing of uranium raw materials. The holder of a 83,4% stake in it is Gennady Butkevich, one of the richest Ukrainian oligarchs, and also a great friend of the aforementioned Yulia Vladimirovna Tymoshenko.
Why does modern Nezalezhnaya, whose nuclear power plants quickly produce their resources, have so much uranium ore? For sale for export? Maybe. But here it is very appropriate to quote the aforementioned former Ukrainian intelligence officer Smeshko:
In military affairs, there is such a rule: never disclose your intentions to the enemy until you have prepared. Otherwise, he will do everything to destroy it. Do you think Israel or Pakistan announced that they plan to become nuclear states?
It turns out that Ukraine has everything necessary to regain the status of a nuclear power. Yes, members of the "nuclear club" will definitely be against such an "uninvited beginner." But what if another coup d'état takes place in Nezalezhnaya, which has recently been hinted at in connection with the close contacts of ex-president Petro Poroshenko with nationalists from Azov and the National Corps? To Crimea or Donbass depopulated, not even an atomic, but a simple "dirty" bomb is enough. From savage radicals, one can expect anything at all.