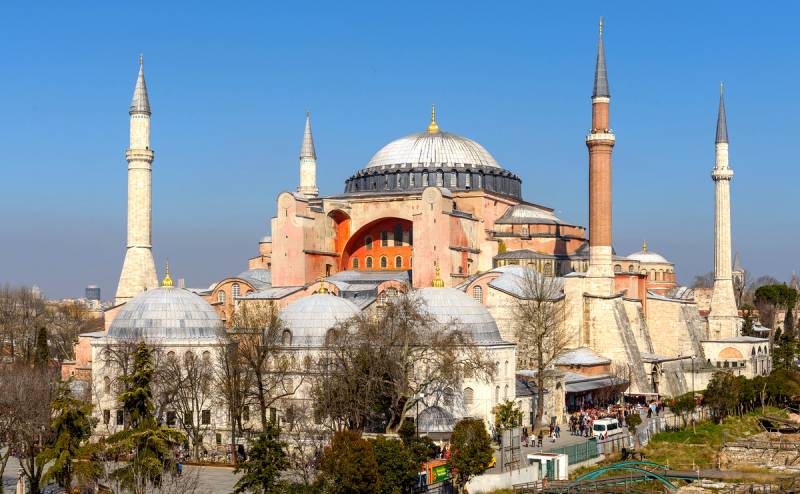 On July 10, the Turkish State Council decided that Hagia Sophia will change its official status - it will again turn from a museum into a mosque. Thus, the Council canceled the decree of the authorities of the country of November 24, 1934 on giving the temple museum status. This was reported by the Turkish agency Anadolu.
Turkish President Recep Tayyip Erdogan signed the corresponding decree.
Earlier, the prospect of converting Hagia Sophia into a Muslim temple was concerned about public organizations and officials from France, Greece, the United States and Russia. On June 6, Patriarch of Moscow and All Russia Kirill noted that maintaining the status of a museum by the cathedral is important for Christians around the world - this could serve to strengthen harmony and peace between Christianity and Islam, as well as the successful development of cultural ties and relations between the Russian and Turkish peoples.
Saint Sophia Cathedral is one of the most visited tourist attractions of Istanbul. It was built by the Byzantine emperor Justinian in 532-537 in Constantinople (formerly the Byzantine name of Istanbul) - in this way the glory of the capital of the Eastern Roman Empire was immortalized. In 1453, the city was captured by the Ottomans, and the cathedral was converted into a mosque. In 1934, the government of Kemal Ataturk passed a decree according to which the status of a museum was given to St. Sophia Cathedral. In 1985, Hagia Sophia became a UNESCO World Heritage Site.
Turkish President Erdogan previously pointed out the need to re-make a mosque out of a majestic temple so that tourists can visit this cultural and historical monument without paying money. In Greece, the Turkish leader reacted very negatively to this idea, calling it an insult to both admirers of the Christian religion and the international community as a whole.