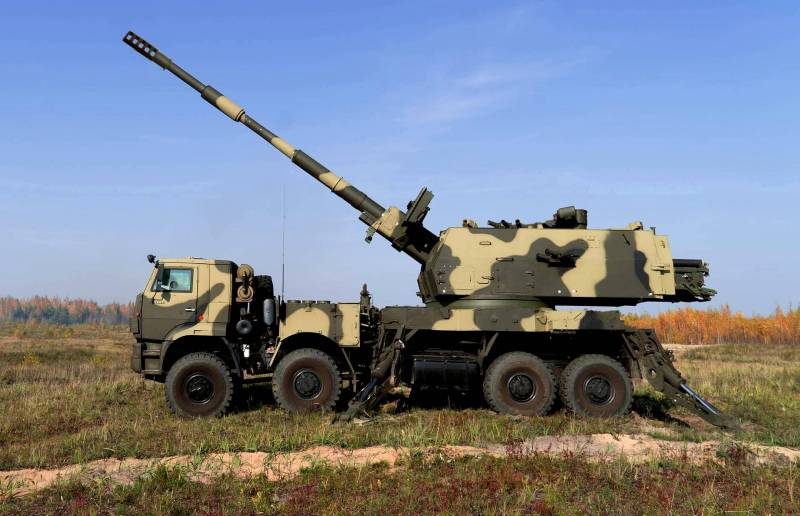 Unique Russian self-propelled guns "Coalition-SV" can become a ship's weapon. According to the head of the NCC Central Research Institute "Petrel" Pavel Kovalev, the characteristics of the artillery mount allow them to equip the ships of the Russian Navy.
The functionary said that the appropriateness of the development of artillery, which will be based on interspecies applications, was justified in the early 2000s.
This can probably explain the name "Coalition" given to the promising complex by the Main Rocket and Artillery Directorate of the Russian Ministry of Defense
- noted Kovalev in an interview
TASS
.
Recall that self-propelled guns "Coalition-SV" surpasses the best world analogues in a number of key characteristics. In particular, the Russian gun boasts a firing range of up to 40 km and a rate of fire of more than 10 rounds per minute.
In addition, a unique domestic artillery mount is made by an uninhabited robotic fighting compartment. In this case, the crew, consisting of three people, is located in an isolated capsule in the compartment of the chassis.
The Coalition-SV was equipped with a 152 mm cannon and the Kord remote-controlled machine-gun mount. According to Pavel Kovalev, simultaneously with the promising SAO, a line of the latest improved ammunition is being created for him.
In May of this year, the Central Research Institute "Petrel" began testing a small series of self-propelled howitzers 2S35 "Coalition-SV" on a wheelbase.