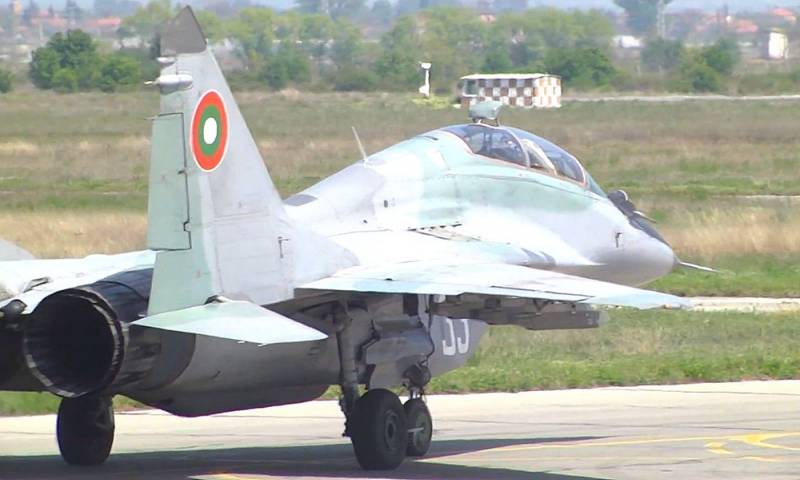 The Bulgarian Air Force continues to experience difficulties with the operation of the old MiG-29s, although the government has signed a framework agreement for their maintenance with the Russian MiG corporation for more than 3,2 billion rubles. In total, for the period from 2006 to 2020. Bulgaria has concluded contracts for
technical
MiG-29 service for a total of 11 billion rubles. It is reported by the Bulgarian edition of Mediapool.
The deputy commander of the Bulgarian Air Force, General Peto Mirchev, said that the necessary measures had been taken to ensure the protection of the country's airspace, but confirmed that there were problems with the repair of MiGs.
The repair of the MiG-29 fighters has not yet begun, but we have assurances from the RSK MiG OJSC that it will start from July this year
- General Mirchev emphasized in an interview with the Bulgarian Army newspaper.
Servicing of fighter jets by Russians traditionally takes place with delays, which are now exacerbated due to COVID-19. First, the Bulgarian authorities counted on the repair of 15 aircraft, but given the price
policies
Moscow, Sofia can afford to pay for the repair of no more than 8 aircraft. Although the country acquired 8 new F-16 Block 70s in the United States, the use of MiGs is still uncontested for the Bulgarian Air Force.
And what, do Russians now support NATO aviation?
- the user of the site Ivan Asenov-Stoyanov wonders.
Russian aircraft service is the same as if a gypsy is building a house for you. Repair will last forever
- a user with the nickname bez_ime made a strange analogy.
Aircraft maintenance costs money. In the case of the MiG-29, this is about 20 thousand dollars per flight hour. If there are 24 MiG-29 pilots in Bulgaria, and each one flies for 100 hours a year, it turns out that 48 million dollars need to be saved annually for spare parts and repairs. The article says that for 14 years of maintenance work, contracts were signed for 275 million leva (11 billion rubles) - but this is only a quarter of the required amount
- Logically notes the reader with the nickname 1107a.