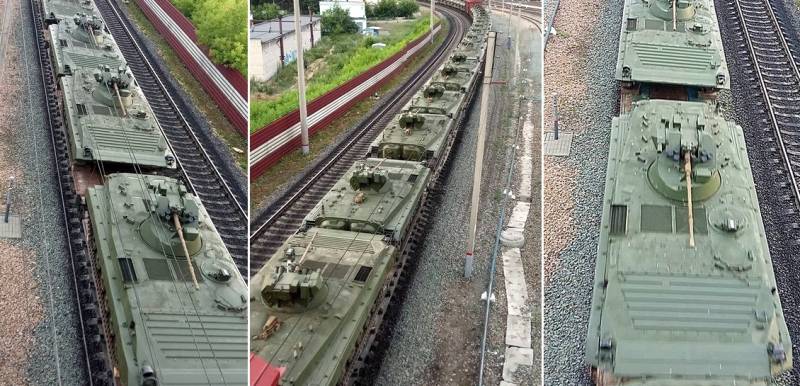 In Russian social networks, cadres of a train carrying a lot of BMP-1AM Basurmanin appeared. The complete set of military vehicles is not reliably known. There is an assumption that the uninhabited combat module "Basurmanin" is equipped with optical night and day thermal imaging sighting and observation channels and a laser range finder.
An improved infantry fighting vehicle with an uninhabited combat module was first presented at the Army 2018 forum. The BMP-1AM equipment includes a 7,62 mm PKTM machine gun, a 30A2 72-mm automatic gun, a fire control system with a combined sight and stabilizer in two planes, as well as the 9K115 Metis ATGM. In addition, "Basurmanin" received a system of launching smoke grenades 902V "Cloud" and a new radio station R-168-25U-2.
The design of the tower makes it possible to fire in any direction in azimuth. Vertically aim at the target can be in the range from minus 5 to plus 70 degrees.
The composition of the armored car includes a serial engine, serial chassis and a finished tower installation. BMP-1AM weight - 14,3 thousand kg. Thanks to the 300 liter engine. With., it can accelerate to 65 km / h on the highway. Cruising range BMP reaches 550 km.