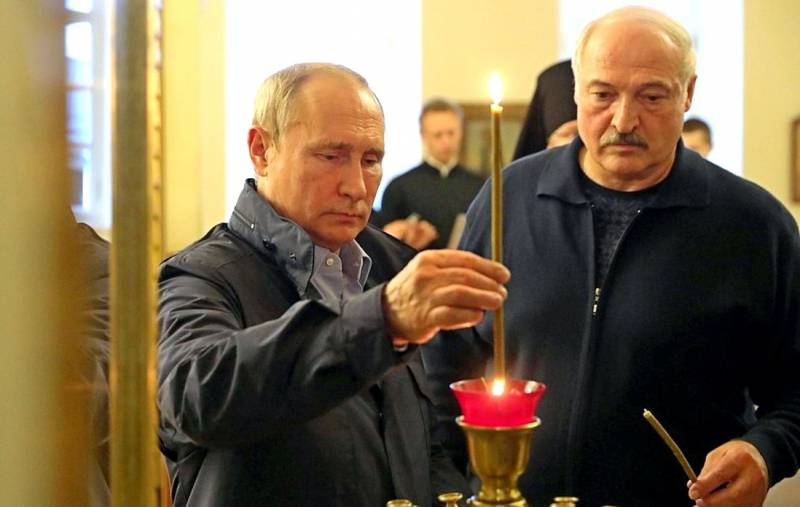 President Lukashenko made a landmark statement. According to him, Belarus is "Russia's last ally," and the loss of Minsk will be a "nightmare" for Moscow. How is it worth considering: Alexander Grigoryevich decided to play the role of "Captain Evidence", or is this "the last Belarusian warning"?
Lukashenko stated the following:
I often say this to Putin: I understand you, you cannot lose Belarus. I understand that you can't fight either to save Belarus.
He also added that Minsk is the second largest consumer of Russian gas after Berlin and one of the largest buyers of oil. According to the Belarusian president, his country is the last "window to Europe" for the Kremlin, which in Riga, Tallinn, Vilnius, Warsaw and Kiev is considered the worst enemy. Russia itself, as Alexander Grigoryevich notes, is experiencing serious problems in
the economy
due to falling hydrocarbon prices and is also in a state
political
transformations due to amendments to the Constitution, aiming to legalize "zeroing Putin." This will allow the permanent president and his loyal team to rule the country for many more years, which, we note, will not be received with enthusiasm by the whole population.
About the possible "divorce" of Minsk and Moscow, President Lukashenko said the following:
In a terrible dream, Russia cannot imagine that they have no more this ally.
Well, in general, everything is so, Alexander Grigorievich pointed out the main bottlenecks. It remains to figure out why he did this, and why now?
Let's face it, you don't have to go far for explanations. Regular presidential elections will be held in Belarus in August, but for the first time in more than a quarter of a century, Lukashenko's chances of being re-elected do not look very convincing. Due to the worsening socio-economic situation, its ratings are rapidly falling, alternative candidate Viktor Barabiko is languishing in prison, there are a lot of pro-Western oriented NGOs in the country. Under a certain set of circumstances, Belarus may have its own version of the Maidan, about which we detail
told
earlier.
The only question is where after this the political vector of Minsk will unfold, and how Moscow will act. Alexander Grigoryevich's appeal is essentially "two in one": a request and a threat at the same time. If the results of the elections are not recognized in the West, and Lukashenko will try to demolish the "onihedet" with the passivity of local security forces, as was the case in Ukraine, the president may need the help and support of the Kremlin so that he does not sit back in Rostov. But also his words can be considered a hint of a hypothetical attempt by Moscow to intervene in the internal political process in Belarus itself.
The Kremlin is not too happy with Alexander Grigoryevich for his sabotage of the implementation of integration agreements within the Union State. Under certain circumstances, it may be tempting not to recognize the election results and bet on an alternative candidate, a protege of oligarchic clans. The words of Lukashenko about Putin's impossibility to "fight for Belarus" are noteworthy. In this context, they gain a new meaning, and they can be considered a warning against trying to intervene.
If the pro-Western Maidan succeeds or the Kremlin's theoretical attempt to put its own man in Minsk fails, Russia will lose its last ally, and with it the hydrocarbon market, replacing another "worst enemy" at its border. In order to avoid such scenarios, Moscow should support exactly Alexander Grigoryevich - something like this can be interpreted in his words.