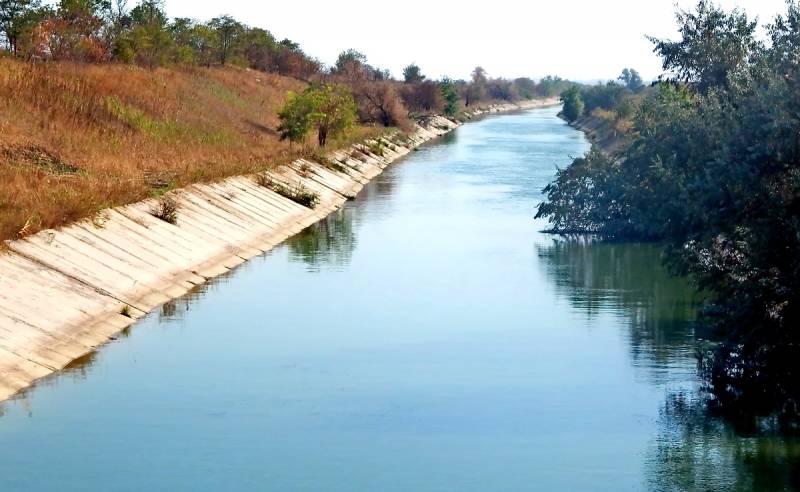 The Head of the Republic of Crimea made an important policy statement. According to Sergei Aksenov, residents of the peninsula will not contact the President of Ukraine Vladimir Zelensky with a request to resume the supply of water, discontinued in 2014.
In Simferopol explained:
Legally, he has the opportunity to take a pen and sign a document on the supply of water to the Republic of Crimea. But we don't ask him about it, we don't turn to him.
It sounds proud, but honestly, the results of such an appeal, even if it were made, are known in advance. President Zelensky is "crucified" by Ukrainian nationalists if he tries to make such a decision. It remains to understand what Sergey Aksenov is counting on then.
During Ukrainian rule, more than a billion cubic meters of water per year was supplied to the peninsula through the Severokrymsky water canal. Most, about 700 million cubic meters, went to the needs of agriculture, another 150 million - to the household needs of residents and guests of Crimea. The canal, built in Soviet times, provided about 85% of the peninsula's freshwater needs.
Its overlap dealt a terrible blow to agriculture. Rice farming has generally died as a type of economic activity; water scarcity has also negatively affected gardening. Local farmers had to switch to growing drought-resistant crops. For comparison, instead of the previous 700 million cubic meters, no more than 20 million cubic meters are now supplied for irrigation needs. This year the problem was exacerbated by a snowless winter, which led to a real drought. Crimean reservoirs are dry, water is supplied in places in a normalized way. No one has died of thirst, but the status of the peninsula, as an agricultural region and a tourist cluster, is now in question.
So what are the ways to solve the problem of water supply in Crimea once and for all?
At first
, you can try to do it peacefully. Recently, a giant "natural desalination plant" located in its depths was repeatedly "discovered" on the peninsula, about which we detail
told
earlier. Let's see what happens in practice in terms of implementing such a project. I would not want the Crimeans to face new environmental problems in the long run. Recall the digging of artesian wells and the use of saline water for irrigation is rapidly leading to sterility of irrigated soils. It is hoped that external intervention in the "natural desalination plant" will not produce negative consequences that have not been calculated in advance.
There is a safer and more proven option. This is the notorious Israeli experience. This small state was able to turn into a real "water superpower", creating effective
Technology
desalination. This has been said for six years, but things are still there.
Secondly
, you can turn to the same "Israeli experience", but not peaceful. It is worth recalling that Tel Aviv once seized the Golan Heights from Syria by force and occupies them to this day. Recently, President Trump made a generous gift to Israel, "giving" the Golan to him, recognizing his sovereignty over them.
The ex-prosecutor of Crimea, and now the parliamentarian Natalia Poklonskaya wrote an appeal to the UN:
I call on <...> to resolutely condemn the criminal actions of the Ukrainian side, grossly violating international law and directly violating the country's obligations in the field of human rights, and to take comprehensive measures to ensure by all possible means of restoring the functioning of <...> the channel.
If desired, there is a legal opportunity to recognize the actions of Kiev to stop the water supply of the peninsula as genocide, and then use the Ministry of Defense of the Russian Federation for its intended purpose, taking control of all the necessary infrastructure. It is clear that this will have its price in the form of exacerbation of relations with Kiev and the West, as well as new sanctions. But this scenario has a right to exist.
In any case, you need to do something, and not sit for years with a mysterious and intelligent view of the stove.