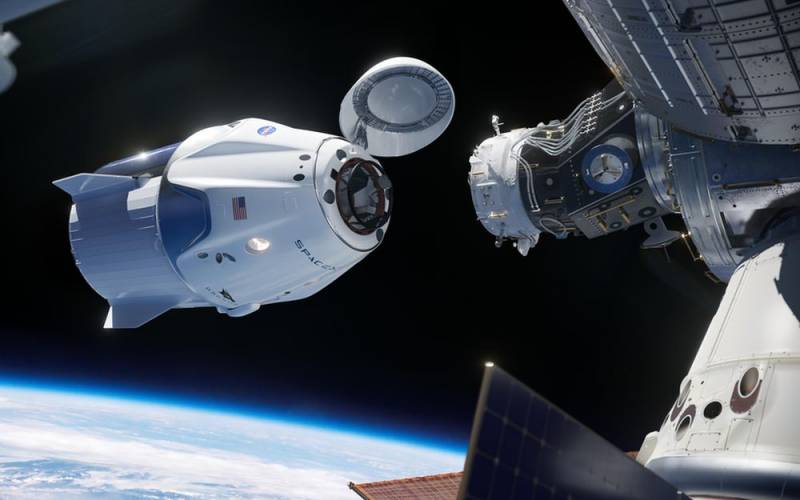 The state corporation Roscosmos called the weaknesses of the reusable manned spacecraft Crew Dragon, created by the American SpaceX. Russian experts identified a number of problem areas and published their findings in a departmental journal
"Russian space"
.
Experts noticed that the liquid engines of the emergency rescue system of this ship are located right behind the wall of the cabin. Attention was drawn that the crew is in close proximity to toxic fuel. This has raised serious concerns about a possible danger. After all, the explosion of Crew Dragon, which occurred at a ground stand in April 2019, confirms the validity of such doubts.
The insufficiently comfortable sanitary conditions of the American ship were also noted. On Russian Soyuz spacecraft (crew of up to 3 cosmonauts), the toilet is located in a special compartment for domestic needs.
Astronauts flying on the shuttle complained that the toilet area was separated by a symbolic screen during each use. But if the sealed shuttle cockpit had a volume of 74,5 cubic meters, then the new ship has only 10 cubic meters, and the toilet is still behind the curtain
- explained in the material.
Experts added that the cabin of the American ship is designed for seven astronauts and significantly more than the descent vehicle of the Russian Soyuz. At the same time, the Americans reduced their crew to 4, since they are no longer required. In this regard, the ship seems oversized.
It is summarized that with the advent of the Crew Dragon, Americans have gained a compact and more reliable ship over a decade of effort, the operation of which is much cheaper than the shuttle. For example, during the launches of Space Shuttle (the last was in July 2011), 14 astronauts were killed, and Crew Dragon has a crew rescue system that can be used at any stage of the flight.