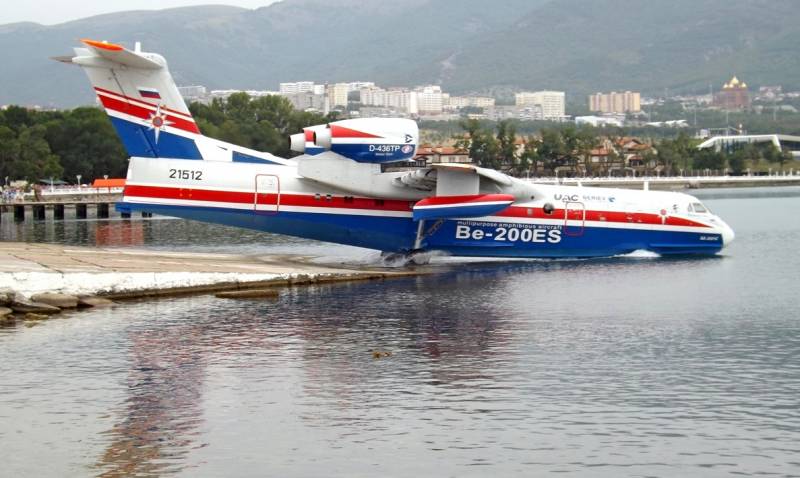 According to the Prosecutor General's Office of the Russian Federation, about one million hectares of forest has burned down in Russia since the beginning of summer. In Kamchatka, flames rage on a total area of ​​870 hectares. In 46 subjects of the Federation, a special fire regime is established. Against this background, a notice was heard about the sending of two Be-200 amphibious aircraft to Turkey, where they, together with Russian crews, will help Ankara to extinguish forest fires.
This information at the same time affects a whole bunch of serious problems.
At first
, these are forest fires themselves, the scale of which is increasing year by year. We have been writing about their causes for several years, and even
proposed
initiate amendments to the Constitution of the Russian Federation and the Forest Code, but, apparently, were not heard.
Secondly
, this is the very use of seaplanes in our country. Be-200 have a combination of unique characteristics that allow them to extinguish the most terrible forest fires. Particular attention was drawn to them in 2010, when President Putin personally participated in a firefighting camera. Since then, amphibious aircraft have extinguished fires abroad: in Greece, Israel, Portugal, Indonesia, Montenegro. Now Turkey has shown interest in renting two Be-200s at once.
At the same time, according to the Accounting Chamber, for the period from 2017 to 2019, the Ministry of Emergency Situations used fire seaplanes for their intended purpose only 42 times, which makes up 8% of the total number of emergency situations. But the Be-200 was involved in commercial flights, which amounted to over 40% of the total number of their raids. Over 2 billion rubles were earned. Also, of course, well done, money just doesn't lie on the ground. True, it is curious how much forest burned during this time, which could be put out. Presumably, in Turkey, the Be-200 will also not work for free.
Thirdly
, it's worth once again to think about why the domestic seaplane, which is so in demand abroad, is not conveyor-made for export? The answer will not be entirely clear. Some will say that Ukraine is to blame for everything, which after 2014 stopped supplying aircraft engines to Russia. There is a lot of truth in this, indeed, the breakdown of industrial ties was a painful blow, and its consequences will be reflected for a long time, which we will discuss in detail
told
earlier. But this is not the whole truth.
Long before the Maidan and sanctions, back in 2010, a contract with the United States for 10 seaplanes could be signed. What happened next, explains the chief designer of the Be-200 Alexander Yavkin. According to him, Mikhail Poghosyan intervened in the case, who defended the Superjet project, and he did not need any competitors for the development of budget funds:
He began to convince everyone that the Be-200 is an unpromising machine. It was necessary to see how he stamped his feet on our then General Director of TANTK them. Beriev Viktor Kobzev, so that he did not even arise about the Be-200.
It turns out that the Superjet crossed the road at once to two promising projects: Tu-334 and Be-200. About how, due to the intrigues of Mr. Poghosyan, the Tu-334 train "left," we also
disassembled
. If we return to the Be-200, it turns out that the decision makers themselves "buried" it long before the destructive actions of Kiev.
Over the past decade, many seaplanes could be produced, suitable both for extinguishing fires in Russia and in foreign countries, and for their commercial use in air transportation, which was clearly demonstrated by the Ministry of Emergencies, according to the Accounts Chamber. The mentioned designer Alexander Yavkin believes that in the near future the Chinese "Water Dragon" (Jiaolong AG600) can take a vacant place.