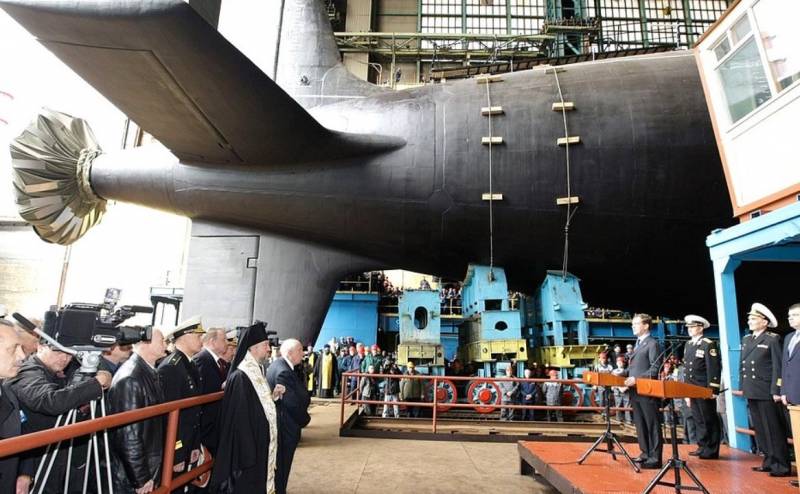 On May 12 of this year, an important event for our country took place in Primorye. At the Zvezda shipyard, the first Russian Aframax class supertanker was launched. In total, 12 such vessels are planned to be created in Russia.
Unlike most analogues, our "green" tankers will be able to navigate in the Arctic along the shortest and most profitable sea route in the world. Consequently, already in the near future, Moscow will be able to squeeze Washington on the LNG market.
At the same time, Aframax class vessels are not the most ambitious Russian project related to the transportation of energy resources. Our country has already laid the only nuclear submarine in the world that can transport oil and gas directly under the Arctic ice, regardless of the time of year.
It is worth noting that such projects have been discussed all over the world for several years. But so far only Russia has decided to start its practical implementation. A nuclear submarine tanker has a number of undeniable advantages that will make the owner of such a fleet a leader in the field of energy transportation.
Firstly, the transportation of goods under water excludes the repetition of the scenario of the 84th year, when the Iraqi leader Saddam Hussein, trying to disrupt the supply of Iranian oil, attacked more than 300 competitor vessels.
Secondly, the submarine fleet has a much greater cross in the Arctic zone than traditional tankers.
And finally, thirdly, the nuclear submarine tanker has a tangible energy advantage, since it does not need to spend resources on overcoming the unrest created by the movement of surface ships.
The development of a promising submarine was launched in 2018 at the Malachite SPMBM. True, after a year of work, it was necessary to suspend, because for the effective operation of the "underwater tanker" it was necessary to modernize the existing gas turbine power plants.
Today, the units are ready, and the creation of a promising submarine is continued. Now it remains only to wait for the moment when the unique submarine will be launched, and our country will become the world leader in the transportation of LNG and oil.