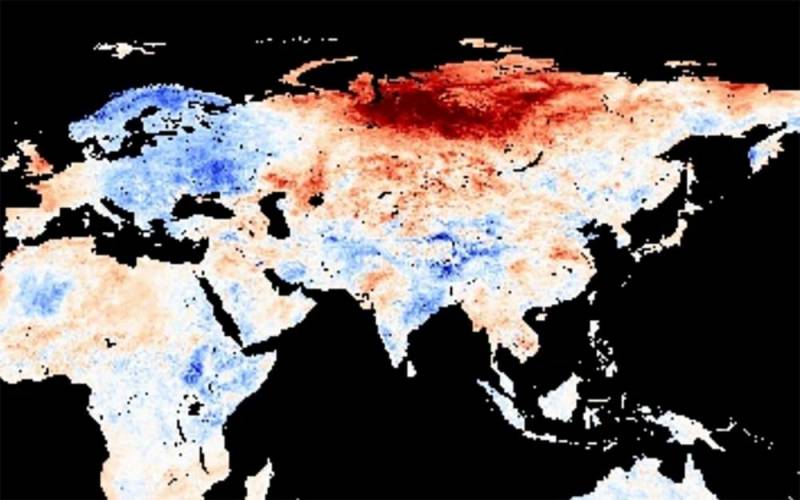 The hot weather in Siberia continues for the third month in a row - permafrost in the north of the region is melting, destroying buildings erected on frozen ground. One example of this phenomenon was the recent catastrophe at a thermal power plant in Norilsk, when a huge amount of oil products spilled into a nearby river. In Khatanga, north of the Arctic Circle, where May temperatures rarely rise above zero, on May 22 the thermometer showed 25 degrees with a plus sign. The reasons for the three-month heat in Siberia are discussed by experts from the Finnish publication Yle.
According to The Siberian Times, in May large cities in Siberia - Krasnoyarsk and Novosibirsk, as well as in the Omsk, Tomsk and Kemerovo regions and in the mountain regions of Altai, May temperatures reached 30-35 degrees. This year, according to meteorologists, will be set next temperature records.
We simply did not have spring, as there was no gradual arrival of heat. It seems that someone just clicked on the "heat switch" in late April, and the summer began
- said in an interview with The Siberian Times a reporter from Barnaul Sergey Zubchuk.
The unusually warm air for this time can lead to a host of other problems: thawing of permafrost leads to the release of greenhouse gases; the plants begin to bloom too early - even before the insects have the opportunity to pollinate them, and therefore can not reproduce properly.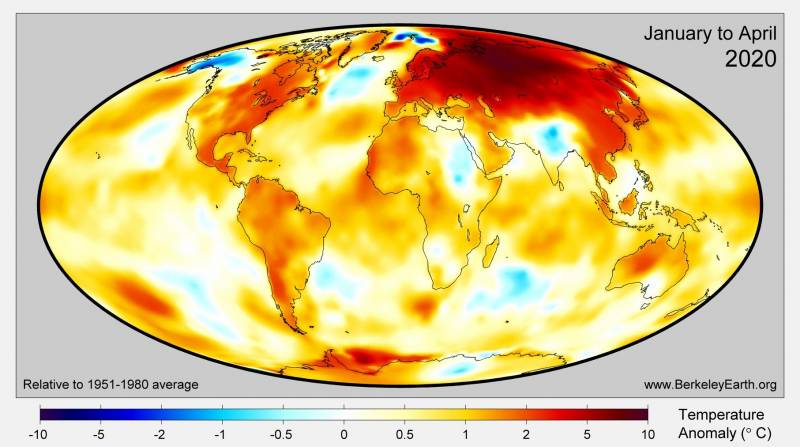 Temperature anomalies from January to April 2020
Researcher Mika Rantanen of the Finnish Meteorological Institute notes that there are two factors behind strong warming in Siberia:
This winter, the polar vortex in the upper atmosphere was unusually powerful and caused the movement of air masses from the west. Warm sea air came to Western Siberia, and there were no severe frosts typical of this region. The whirlwind dissipated in the spring, but by this time another natural phenomenon had come into effect - a stably high air pressure in the middle latitudes for several weeks. Thanks to clear weather, the rays of the sun warmed the earth, since the beginning of summer in the north of Siberia is almost always a day
- the scientist explains the reasons for the hot weather.
In Siberia, the temperature difference in winter and summer is perhaps the largest in the world. In winter, it can be up to 50 degrees below zero, and in summer - 75-80 degrees warmer. However, the weather is exceptionally hot this year. And this is only the beginning of summer, and what will happen next?