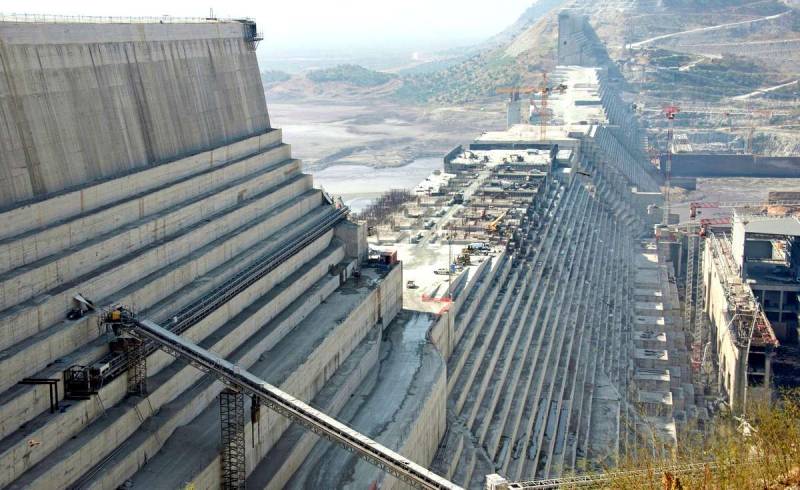 People used to die for metal. Then for the oil. Now they can start killing for plain water, which political scientists have been warning about for the last 20 years. A large regional war is brewing in Africa, which may be a harbinger of future conflicts over this vital resource, and Russia may also be involved in them.
This is a possible war between Egypt and Ethiopia over the large-scale hydropower station, Hidase (Renaissance), the largest on the black continent. It is a reservoir with a capacity of 74 billion cubic meters and a dam blocking the Blue Nile. For poor Ethiopia, where almost half the population has no access to electricity at all, this project is of tremendous importance. Today, this country is forced to import electricity, but after the launch of the hydropower plant, it will be in second place in Africa in its generation and can even export. For Ethiopians, Hidase is a real chance for
economic
revival, therefore, the country's authorities did not spare almost 5 billion dollars, about 10% of GDP, for the implementation of this ambitious project.
That's just the success of the neighbors do not please the Egyptians. In Cairo, they rightly fear that the overlapping of the Blue Nile will lead to the shallowing of the "big" Nile, on the banks of which 90% of the country's population lives and is being agriculture based on traditional flood farming. Ethiopia intends to fill its giant reservoir in just three years, starting in July, which could lead to new "Egyptian executions" due to drought, rising unemployment, forced migration of the poor population in cities and growing socio-economic tension in the country, which is only recently passed a civil war. In addition, there is a non-zero risk of a man-made accident at the hydroelectric station, it is enough to recall our Sayano-Shushenskaya, which is less than the Ethiopian one.
The situation is very serious. Egypt could not directly prevent a sovereign state from building structures on its territory. Tripartite Interstate Dam Negotiations
failed
. The agreement of 1929, prohibiting any work on the Blue Nile, was Ethiopia in 2014 declared invalid as "colonial". Almost all African countries are now on the Ethiopian side. Egyptian President Al-Sisi directly stated to the UN a year ago:
The Nile is a matter of life, a question of the existence of Egypt. In other words, the Nile question is a matter of life and death for Egypt.
One of his predecessors, Anwar Sadat, in 1979 was much more categorical in his words:
We are not going to wait for death from thirst in Egypt. We will go to Ethiopia and die there.
To this, one of the Ethiopian commanders, Major General Birhanu Jula Gelalcha, is now
threatened
:
The Egyptians and the rest of the world know all too well how we fight.
Well, to be honest, we don't know. But come on, that's not the point. The war is in the air, the almost-built hydroelectric station was covered in advance by Russian-made S-300PMU1 and Pantsir-S1 anti-aircraft missile systems. Cairo faces a very serious question: to fight or not?
War and Peace
There is a peaceful solution to this dilemma. For example, Ethiopians can be persuaded to fill their reservoir not in 3 years, but gradually in 10-15 years. They are in a hurry, because they need to start working faster and return loans, which means they need to agree on their installments and restructuring. Then the Egyptians will have time to try to adapt to change.
You can build your own powerful desalination plants, drawing on the Israeli experience, introduce a drip irrigation system, repair the infrastructure responsible for pumping water to prevent water leakage, switch to growing crops that require less irrigation, and carry out socio-economic reforms to increase the employment of the population.
War seems a simpler solution, but far from it. Egypt looks stronger than Ethiopia, but on the side of the latter half of Africa and international law. A whole coalition can be built against Cairo, and it is not entirely clear how this war should proceed. Destroy a hydroelectric power station with a massive bombing strike? Well, soon this decision will be frankly belated when the reservoir is full of water. To invade and occupy part of the territory of a sovereign state by taking control of a hydroelectric power station? The idea is also not very, and it will have serious long-term consequences for Egypt itself.
However, the fact that the decision is bad does not mean that it will not be implemented. A peaceful solution is not always "optimal," because it requires huge investments and time, and the war for water is today a conflict between frankly poor countries that do not have the ability to invest heavily. Potential points of tension in the Middle East are also water relations between Israel and Syria, Turkey and Iraq.
In general, the topic of unilateral overlapping of rivers or water utilities, as in the case of Ukraine and Crimea, by certain countries should be actively and effectively regulated at the UN level. Otherwise, water wars may soon really begin.