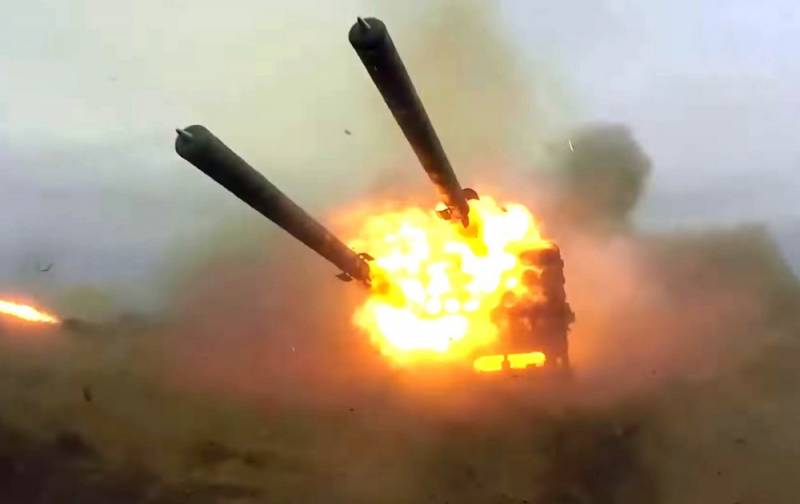 A photo of the Tosochka heavy flamethrower system appeared on the Web, which is a wheeled version of the TOS-1A Solntsepe caterpillar. TOS was spotted on June 11, 2020 in the Moscow Region during the rehearsal of the parade dedicated to the 75th anniversary of the victory in World War II.
TOS-2 "Tosochka" was created on the basis of the "Ural" car of increased carrying capacity, improved cross-country ability and mine protection. This system was the result of experience gained during the conflict in Syria. Training car drivers is cheaper, less fuel consumption, and TOS itself has become much more maneuverable. "Tosochka" has a manipulator for independent reloading, and fire control is fully automated.
"Tosochka" pic.twitter.com/7yisaH66l5

- GodnotA (@mahmud_aheli) June 17, 2020
However, users of social networks and Russian specialized sites criticized the first sight of "Tosochka":
The rear axles are overloaded, which means the bridges will tear. What do they think there?
- indignant Maxim Rachevsky.
I think the whole thing is to save money ...
- suggested Pavel Kraynikov.
In conditions of dominance of drones, the idea is so-so. This thing detonates not weakly. But it's not far, therefore it should be at the forefront
- Sergey Enotov considers.
UAVs do not dance against the army with layered air defense. The game is not worth it. They are expensive and easily fall. And this machine is perfect for its purposes, no trenches and shelters will help
Mithridates Eupator objected to him.
The dream of a grenade launcher, from 500 meters will fail. The height of the target is such that it will be difficult to miss. Although, after the BTR-90 / Kurganets / Barberry and other chassis, I am no longer surprised at anything. TOS on the T-72 chassis will be better
- considers Andrey Petrushin.
Is it a cheaper (due to the chassis) version of TOC?
- asks Alexander Baldauf.
Yes, because experience has shown that wheeled chassis are better in the Middle East
- Karim Gaysin answered him.
More resources, the ability to independently navigate on the roads, and not on the trailer. Longer life span. More speed and mobility. Patency, of course, less caterpillar, but also rather big. The truck will drive a lot
- added a certain Vitaly.
A very bad trend, the transition from tracked to wheeled chassis. The recently introduced Coalition-SV-KSH self-propelled gun on a wheeled chassis, now Solntsepek, tomorrow a tank ...
- dissatisfied with Andrei Mikhailov.
If there are changes, i.e. improvements in TTX, then it is necessary to apply these improvements in the tracked version (TOS-1A), and update it too. No offense, but only a completely distant person in this matter can argue that "Tosochka" is a continuation / replacement of TOS-1A. TOS can replace Tosochka at any time, both in the city and in the mountains, and Tosochka will not always replace TOS. Everything else also has the dimensions of "Tosochka" more. But the car, like the new system, is cool
- summed up a certain Azer.