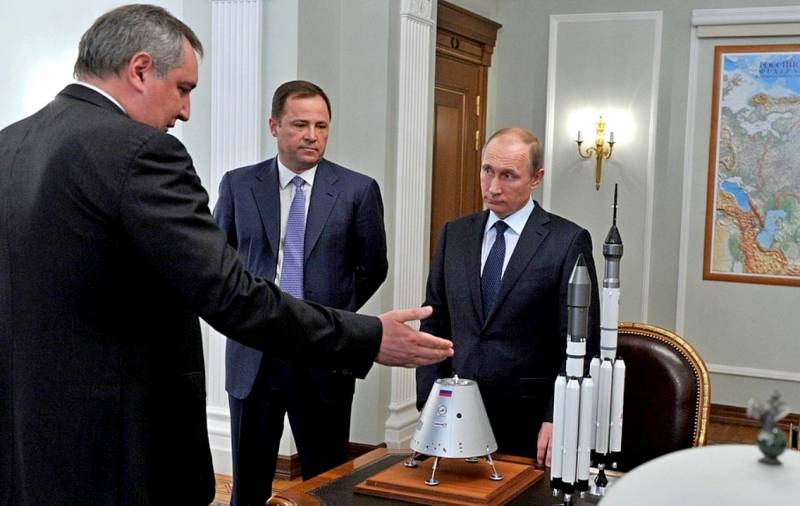 It seems that the successful flight of the manned spacecraft Crew Dragon from Space X still touched Roscosmos for the living. The day before, Dmitry Rogozin told reporters how the state corporation is going to defeat competitors in space exploration.
In the near future it is planned to resume launches of the "environmentally friendly" Angara rocket. In the summer, a heavy-class carrier brought to mind should be delivered to the Plesetsk cosmodrome. The first missile launch after 2014 is scheduled for fall. If the flight tests are successful, then the heavy Angara, operating on an oxygen-kerosene mixture, will replace the heptyl Proton.
The next priority goal of the state corporation is the light heavy Soyuz-5 rocket, which is supposed to make its first flight in 2023. It is assumed that several more carriers will be created on its basis, including Soyuz-7, adapted for launches from the Sea Launch platform, recently relocated from the USA to Russia.
Also, according to the functionary, an unmanned flight of the new-generation Russian spacecraft "Oryol" is planned for 2023. Then, in 2025, he will be the first to deliver the crew to the ISS.
In addition, among the urgent tasks of Roscosmos, Rogozin mentioned the creation of a methane rocket engine, a TEM in a nuclear power propulsion system, new modules for the orbital station, systems for the RS-28 Sarmat, and even the resumption of the lunar program.