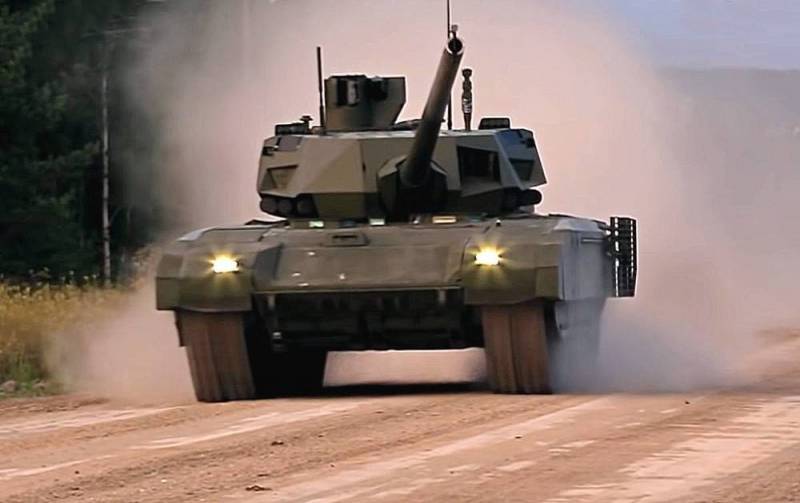 Russia already has potential customers for the purchase of T-14 Armata tanks, writes the American edition of Military Watch.
Today, the T-14 is one of three fourth-generation MBTs existing in the world, along with the K2 Black Panther (South Korea) and Type 10 (Japan). In the West, tanks of the fourth generation should appear by the beginning of the 2030s.
Thanks new
technology
and enhanced capabilities, the T-14 will be very attractive for countries that want to gain advantages over their neighbors. There are at least five states that want to acquire a T-14: these are India, Belarus, Algeria, Vietnam and Egypt.
India is the largest buyer of Russian T-72 and T-90 tanks, and has already shown interest in the T-14. First of all, this is due to the failure of the national Arjun MBT project. In addition, China's defense sector is growing rapidly and India may be at a disadvantage in the medium term. Therefore, "Armata" can be an ideal means for India to achieve an advantage over its neighbor.
Belarus so far relies on modernized T-72B tanks. However, neighboring Poland wants to acquire advanced South Korean K2 Black Panther. To maintain military parity with Warsaw, Minsk may go for the purchase of the latest tanks from Russia.
Algeria for decades buys Russian equipment in significant quantities. His tank troops are considered one of the most powerful in Africa. Maybe that's why no one attacked this country. Based on this, there is no doubt that Algeria will want to acquire the T-14. These tanks will further strengthen the country and provide an advantage over their neighbors for many years.
Vietnam is also a major buyer of Russian technology. There are a lot of T-90s in the Vietnamese troops, but Hanoi is already considering the possibility of buying "Almaty" as soon as they go for export. Neighboring China is constantly improving its tanks, and the Vietnamese do not want to lag behind their neighbor.
Egypt is currently actively renewing its armed forces. In neighboring Israel, they were already thinking about developing a new tank, so Egypt, without having its own tank building school, can buy Russian T-14s to provide an advantage over a potential enemy.