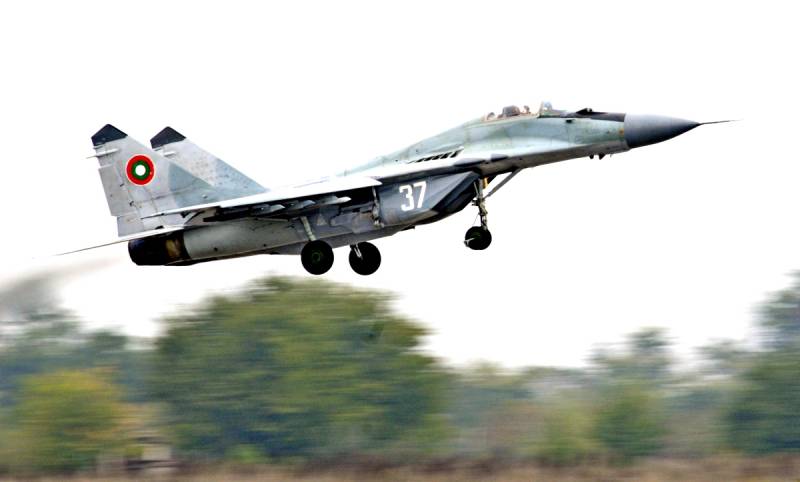 The Bulgarian edition of Mediapool has calculated how much Sofia pays Moscow for servicing the MiG-29 fighters.
16 years after joining NATO, Bulgaria continues to rely solely on Soviet MiG-29 fighters to protect its airspace. 275 million Bulgarian leva without VAT (approximately 11 billion rubles) - the value of contracts for
technical
maintenance of MiG-29 fighters for the period 2006-2020. And this is not enough.
Fighter maintenance is complicated and expensive. In addition, it is implemented by a country that is not a member of NATO.
And although Bulgaria acquired 8 F-16 Block 70 fighters from the United States for more than 2 billion leva (80 billion rubles), the use of MiGs continues even after the delivery of American aircraft. Indeed, in order to completely switch to a new type of combat vehicles, you need to buy the same amount of F-16.
According to the report of the Minister of Defense of Bulgaria, Krasimir Karakachanov, an average of 14,4 million leva (almost 600 million rubles) is spent on aircraft maintenance and 22 million leva (900 million rubles) on engine repairs. Money is paid to the Russian corporation RSK MiG. Recently, the minister signed another major framework agreement with MiG RSK in the amount of more than 80 million leva (3,2 billion rubles). But with this money only 8 MiG-29s will be repaired, not 15, as previously assumed.
Despite contracts with MiG, the commander of Graf Ignatievo airbase, Brigadier General Dimir Petrov, said that the total number of flights in 2019 was the lowest in the last 7 years, mainly due to the insufficient number of operational aircraft and limited resources . Until now, the military has managed to get out of the situation by relying on the practice already established in the Air Force, known as "cannibalism," using parts from some aircraft for others.
The idea of ​​the Ministry of Defense is to use planes until the end of their life cycle, which will last until approximately 2030. By that time, the Bulgarian Air Force should have completely switched to F-16 fighters.