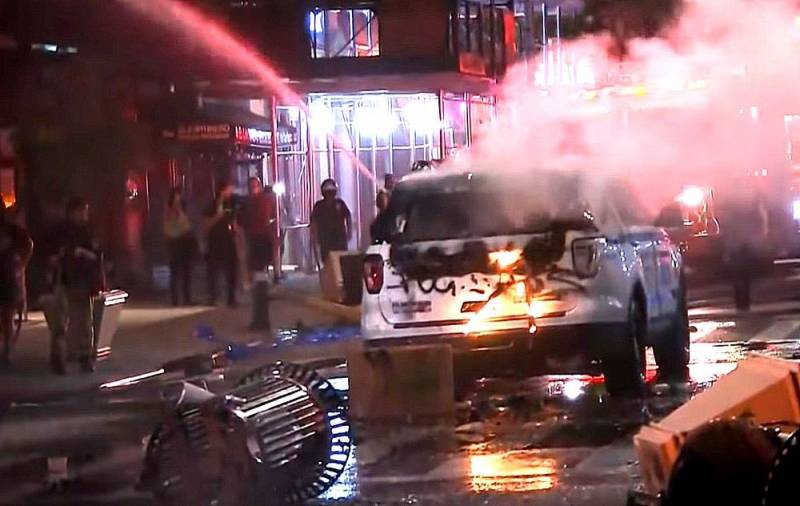 Russian senator Alexei Pushkov predicted the end of the riot of the black US population, which began after the public killing of an African American policeman in Minneapolis (Minnesota).
Pushkov is sure that the rebellion will be suppressed, but peace will last only until another policeman kills another black man. At the same time, robbers and looters will flaunt accessories and branded clothing in American cities. A repeat of the riot is inevitable, since the US authorities do not plan to eliminate the causes at all, the politician believes.
Judging by Trump's speech, he intends to bet on force and only force, plus on prison. In the United States, 80 percent of the prisoners are African-Americans (about 4,5 thousand for every 100 thousand people; for comparison: about 700 for 100 thousand among whites). Now it will be added
- wrote a member of the Federation Council of Russia in his Telegram channel.
According to Pushkov, national unity in the United States is shaky, it literally stands on clay feet.
Another Oscar will not help another African American. <…> This is not propaganda. This is a fact the whole world witnesses
- clarified Pushkov.
In addition, Pushkov drew attention to the promotion by the American Democrats of a radical protest against Republican Trump.
The "Deep State" operates. Protests in 75 (!!) cities of the country require organization
- pointed out Pushkov.
Pushkov noted that the US media is carefully avoiding the racial side of the riot, although it is obvious. American journalists write about the protesters so as not to even mention their race.
The expression "black community" - "black community" - is given only in the statements of experts. But there are no fools: it is clear to everyone that this is a racial rebellion of black America
- summed up Pushkov.