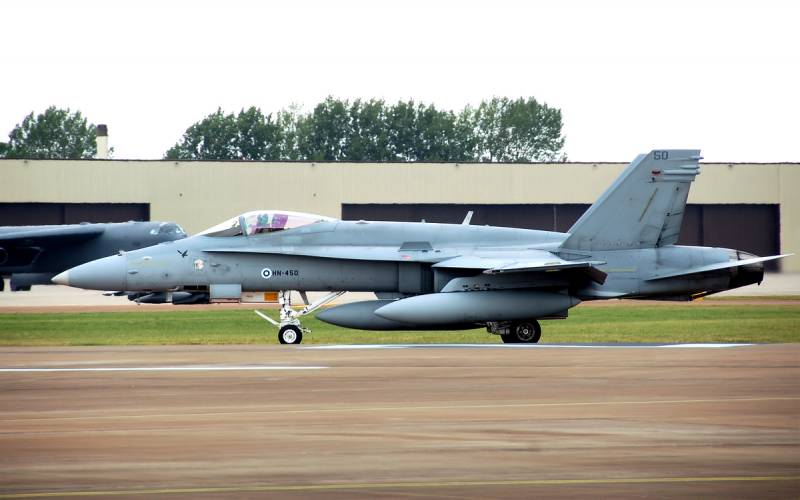 Although the coronavirus epidemic plunged Finland into unprecedented
economic
recession, the country's Ministry of Defense is still planning to replace 64 F / A-18 Hornet fighters of the national air force with new aircraft, writes the website of the public television and radio company Yle.
The transaction value is estimated at 7-10 billion euros. This is the most expensive purchase that the Finnish state has ever made. But with the economic crisis, the need to acquire aircraft has acquired a new dimension. According to a recent survey conducted by Yle, more than half of the Finns would like to postpone this purchase until later.
However, in the article, point by point and with references to experts, the opinion is pushed that combat vehicles are needed right now. One of the reasons is the notorious "Russian threat".
So, the article provides the opinion of Richard Aboulafia, head of the Teal Group, an American aviation research institute, who believes that "China and Taiwan are a good model for Russian-Finnish relations." The specialist notes that if Taipei did not have reliable air forces, this would "give China excellent opportunities to exert pressure on the democratic development of the island nation."
The national defense of the northern country, as noted in the publication, is almost completely constructed in order to repel any attack from Russia. After all, Finland is a small and neutral country that shares more than a thousand kilometers of the border with the Russian Federation.
Russia, on the other hand, is the second most powerful military power in the world, with about 1000 fighters in the air force. What is the use of 64 Finnish fighters if they were faced with such a superior enemy in the air, the publication wonders? Charlie Salonius-Pasternak, Senior Research Fellow, Institute of External Relations
policy
calls not to look at numbers, since not all Russian fighters can be used at once to attack the Country of a thousand lakes.
Of course, even if Russia concentrated only part of its air armada against Finland, Suomi pilots would still face superior forces, with no chance of victory. On the other hand, victory was never the goal of the Finns.
The goal is to make an invasion so expensive for an adversary to be worth it.

- claims Saloniy-Pasternak.
As noted in the publication, in the best case scenario, the enemy will decide to abandon the harmful idea even before the exchange of blows is made. If an armed conflict begins, a strong defense will lead to a good position for possible peace talks. In addition, this will gain time for getting help from allies.