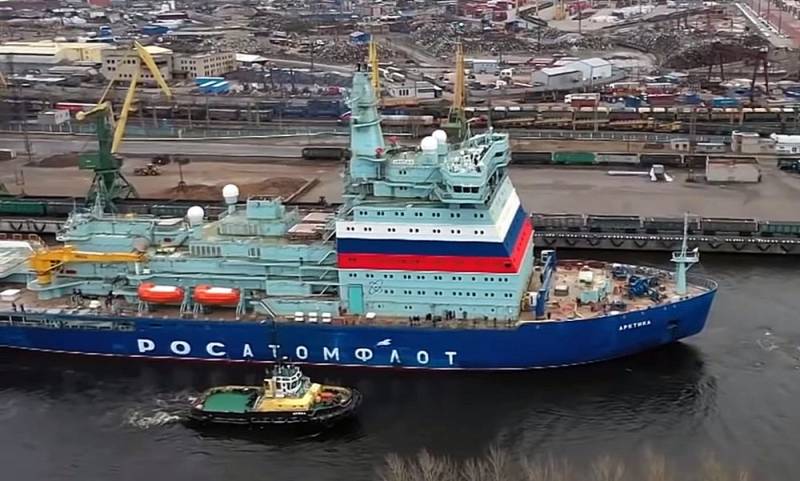 On Tuesday, May 26, the fourth nuclear-powered icebreaker of Project 22220 was laid down at the Baltic Shipyard. The first two vessels, Sibir and Ural, are at the shipyard of varying degrees of readiness, and the lead icebreaker Arktika is in the final stages of testing.
Ships of project 22220 have a two-draft design, which allows them not only to break the Arctic ice, but also to go to the mouths of Siberian rivers. At the same time, our icebreakers are considered the most powerful in the world, which allows Russia to dominate the Arctic.
To this day, no country in the world could compete with us in this niche. However, on the eve of its ambitions, China announced that it had begun developing its own nuclear program.
It is worth noting that the Celestial Empire in 2018 has already built the icebreaker "Snow Dragon - 2". However, the vessel is diesel-electric and cannot compete with ships equipped with a nuclear power plant.
China decided to reach a new level in 2019, completing the development of a project of its own nuclear icebreaker and announcing a tender for its construction. According to the technical characteristics, the PRC ship is comparable with our vessels of project 22220.
However, when the Celestial Empire can launch its icebreaker into the water is unknown. The fact is that China has learned to build nuclear power plants for submarines, but not for surface ships.
However, be that as it may, in Russia there is already a development that will consolidate our leadership in the Arctic for a long time. We are talking about the nuclear icebreaker "Leader", the construction of which will start this year. The vessel is capable of breaking ice over 4 meters thick and significantly exceeds the project 22220 ships in its characteristics.
Commissioning of the icebreaker is scheduled for 2027. At the same time, three such vessels will be built in Russia.