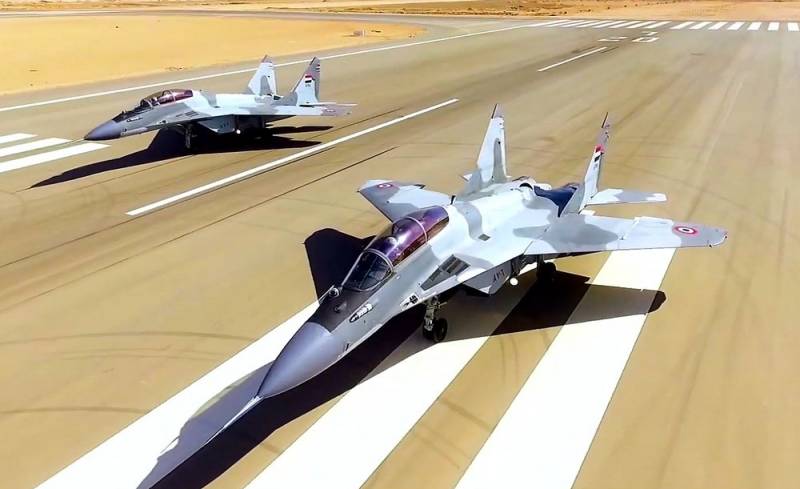 Flight of the Russian fourth-generation fighter MiG-29, which,
as considered
were relocated from the Syrian air base Hmeimim to Libya, turned out to be very unusual. After all, from Khmeimim to the current place of airplanes - Al-Jufrah airbase - about 2100 km, and this type of combat vehicles can not refuel in the air. Therefore, the Russian MiG-29 was difficult to get into Libya. Experts of the American edition of The Drive tried to figure out the situation.
From Khmeimim to the Libyan air base, Al-Jufra is very far away, and only modifications of the MiG-29KR and MiG-29SMT are capable of refueling in the air. That is, either modifications are located at the Libyan base (which is unlikely), or the planes were redirected somehow without refueling
- Observe military experts from the United States.
Probably, the aircraft carried out additional refueling in Egypt, which, as you know, supports the LNA and Marshal Haftar.
The very presence of the MiG-29 in Libya is considered proven, since they are clearly visible in satellite images. According to the American publication, they can be used for attacks on unmanned aerial vehicles of the Turkish army, which supports the Government of National Accord (PNS). But Russian fighters themselves, in turn, will become targets for Turkish drones, they are confident in the publication.
According to The Drive, the MiG-29 aircraft and Mi-24 helicopters manufactured by the Russian Federation were probably purchased by the United Arab Emirates from Belarus.
We note from ourselves that the ferry range of the MiG-29 fighter with two outboard fuel tanks is about 2100 km.