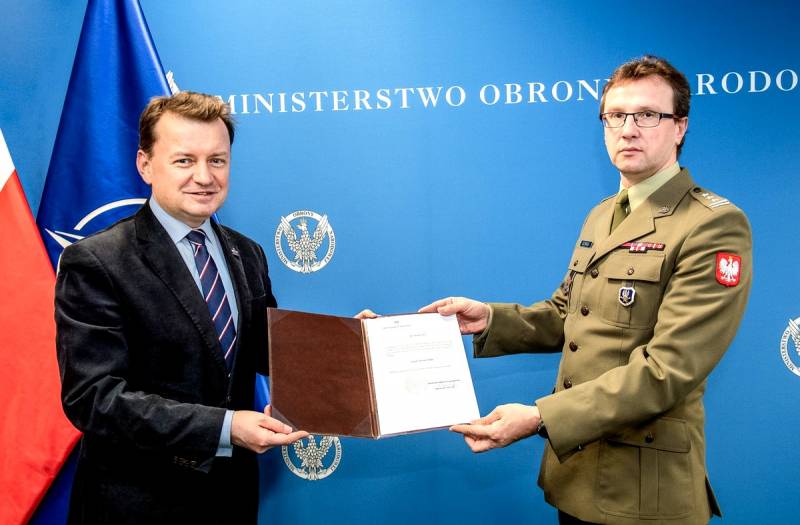 On May 20, 2020, the head of the Ministry of National Defense (MON) of Poland, Mariusz Blaszczak, appointed Colonel Marchin Gorka the head of the "space department". He was immediately entrusted with the task of developing and implementing a departmental strategy for the use of outer space for defense purposes, writes the Polish conservative Internet portal Niezalezna.
This is the implementation of NATO's assumptions, which recognized the cosmos as a new area of ​​military activity. The tasks of the authorized representative include the implementation of the Polish space strategy
- reports Twitter departments.
The slide should represent MON at the forums of NATO, the European Union, the European Defense Agency and the European Space Agency, as well as develop proposals for synchronizing the activities of the Polish military, ground infrastructure and the orbital group.
Polish readers immediately responded to what happened.
Perhaps the only thing that can justify such a decision in the eyes of citizens is the formal requirements of NATO. That is, the need to appoint another official for bureaucratic contacts with colleagues of the remaining members of this bloc. But why expose yourself to ridicule and make the press releases of the day in the style of a superpower? And by the way, I'm starting to lose hope that during the life of the current generation we will receive worthy armed forces
- considers sagitarius.
No, well, respect, of course ... That's what we need instead of our daily bread!
- exaggerates Kosmodysk.
It is also necessary to install ballistic missile launchers on the invisible side of the moon. But how will the Russian Foreign Ministry react to this?
- added Anonim.
At the moment, all three so-called Polish satellites, not exceeding 10 kilograms of the total mass, were collected in Canada and launched by the Russians and Chinese
- wrote jcieszkowska.
There were many Polish cosmonauts in Russia. Many of them tragically died before or during flights. Poles are born pilots. Apparently, even Gagarin was a Pole, not to mention Dobrovolsky (Georgy Timofeevich Dobrovolsky - an astronaut, Hero of the Soviet Union (posthumous) - approx. Ed.), Who died during his return to Earth. For some reason, the media do not write about this.
- joking jcieszkowska.
The moment of truth has come. While technologically backward Russia is not able to complete Nord Stream 2, we are conquering space
- summed up Anonim.