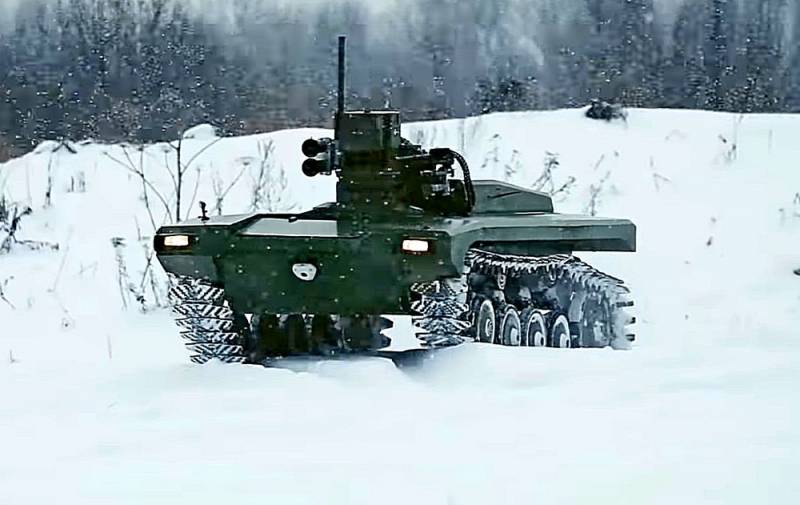 Next year, tests of the Marker robotic combat platform will be completed. Despite the fact that during the Syrian conflict, Russia already managed to break in the platforms of the Uranus, Argo, Sphere, Avatar, Nerekhta and Platform-M series, the new infantry robot will become unique in a kind, as it will be able to combine the capabilities of all the above devices.
So, the promising Marker is a flexible, stable platform of high operational reliability, which can simultaneously use two types of weapons and one type of additional equipment. The nomenclature of weapons for the future "infantry assistant" includes a 12,7-mm machine gun, automatic grenade launcher, launchers of various types of missiles, including anti-tank ones. As the aforementioned addition, the robot can receive electronic warfare equipment, guidance stations, electronic and optical reconnaissance equipment, or even a launch cartridge for barrage of ammunition and drones.
In general, taking into account the task assigned to the troops, the innovative platform can have up to 20 configuration options, and can also be used as a light vehicle for overcoming anti-personnel minefields.
However, this is not the main advantage of the Russian development. Unlike most of the similar platforms controlled remotely, the Marker is a full-fledged robot. So, the device forms in memory a map of the adjacent space with a radius of 100 meters and is able to continue the task even in the absence of communication with the operator.
In addition, the structural features of the chassis of the platform allow the domestic combat robot to conduct aimed fire even in the process of movement, which no modern Russian or foreign counterparts can boast of.