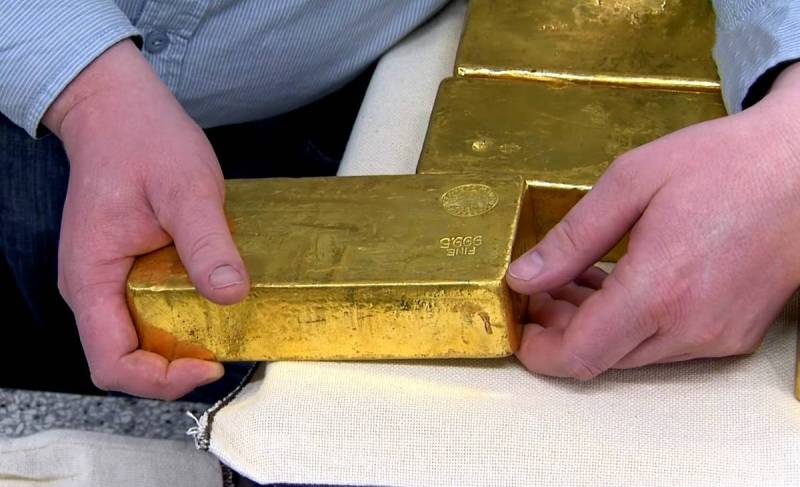 Large Russian banks continue to sell gold, among the leaders are Otkrytie, Promsvyazbank and Sberbank. Today, in the vaults of Promsvyazbank (PSB), for example, there are only 173 kilograms of this precious metal from the previous 2,2 tons.
What can the dumping of these assets, famous for their reliability, testify to right now?
Some economists believe that all credit institutions can not be evaluated, as they say, "on one comb." For example, Promsvyazbank is somewhat different from everyone.
PSB was chosen as a reference bank for the Russian defense industry, as well as a "collector", an agent of the Russian government for the fulfillment by foreign customers of its financial obligations to our defense industry. Some time ago Promsvyazbank sharply increased its assets in gold, and now almost all of them have dropped. There is a popular version among experts that Moscow could help Caracas hide Venezuelan gold from the Americans. A credit institution has a special "opaque" status, therefore this explanation seems quite plausible.
With other large banks, the story is somewhat different. Since May 2019, the Central Bank of the Russian Federation, the main buyer of precious metal in the country, set a discount on its purchase for itself, which began to gradually increase. Thus, conditions were created under which gold producers became interested in selling it to other customers. According to experts, several dozen Russian financial institutions have a license for operations with gold. It is not beneficial for them to indicate yellow metal as equity, since the rules of Basel III, which should evaluate it at 100% of the market price, not at 50%, as it is now, have not entered into force.
There was such a situation in which it became profitable for foreign buyers to buy gold in Russia through banks as intermediaries or trust managers. It is highly probable that assets being exported abroad via London are in their bulk precious metals purchased by non-residents in our country at a price lower than the world one. In general, this is their right, but one has to wonder why this is happening right now.
It is suggested that a crisis is brewing in the banking sector, which is not surprising given the general
economic
the situation. The risk of Western sanctions is increasing, which could lead to the blocking of certain financial transactions. Apparently, the owners of credit institutions act in the interests of their foreign clients, leading the precious metal to a zone that is more secure from their point of view in advance.