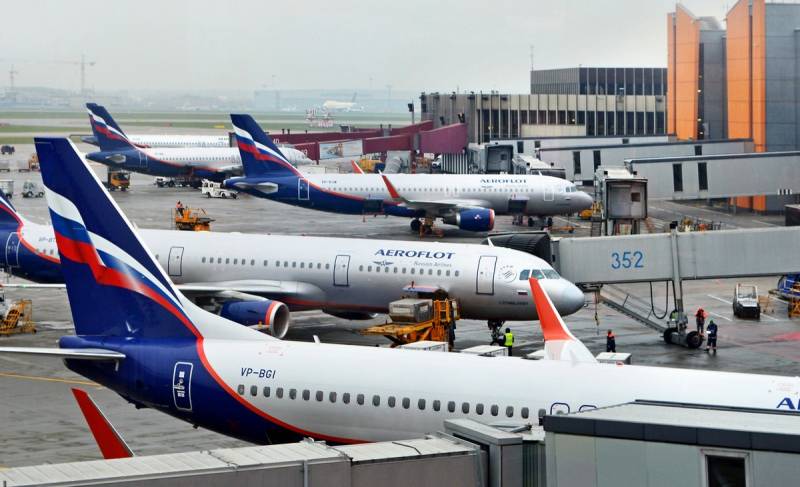 The head of Rospotrebnadzor Anna Popova, in her speech on the "new conditions" put forward by the coronavirus pandemic in which we "will have to live a very long time", raised the question of "how will we fly" in this very "post-coronavirus reality" radically changing the world. But really - how ?!
So far, there are no general, common rules and standards in this area, however, judging by the available information, work on them is more than active. Let's try to figure out - what can passengers of winged liners expect when they finally rise to the sky again?
Safety at the expense of convenience
Before moving on to specific innovations that plan to introduce carriers that are eager to restore work, but fearing possible negative consequences, we'll talk about how the civil aviation market itself, which is literally on the verge of "survival", can change. The fact that even the most famous and respected airlines of the world, "winged empires", which seemed invincible before the beginning of this year, are now desperately looking for ways to survive in a world tightly chained to the ground, we have already told. Well, if Lufthansa literally cries out for help, while hinting that she is ready to do everything up to partial nationalization in exchange for state support, then what can I say about others. Alas, reports of more and more losses come from this "front" almost daily. So, Avianca Holdings recently declared its own bankruptcy - the airline, the second largest in Latin America and the second "seniority" (after KLM) in the world. 101 years Avianca aircraft plowed the air ocean, but she did not survive the pandemic. However, the company still hopes for state support from the Colombian government, thanks to which it may be able to reorganize and not shut down completely. According to industry experts, the crisis that has erupted in the world will inevitably lead to the fact that most small air carriers go bankrupt and either stop their work or are absorbed by their larger and more powerful competitors. A special danger hangs over the "low-cost airlines" - companies that attracted passengers with the cheapness of their own services, achieved due to the maximum load of the "boards" and the high frequency of their flights. Just these two parameters in the new realities dictated by the pandemic will become completely impossible.
Without a doubt, any of the companies that resumed transportation will operate under conditions of the risk that one of its aircraft will carry COVID-19, and as a result the aircraft will turn into a potential source of infection, it is quite possible - not for one country. It is clear that any such incident, having become public, will inevitably serve as an occasion for the "lifelong disqualification" of the carrier whose name will appear in the scandal. Consequently, measures aimed at preventing even the hypothetical possibility of infection will be not only extremely high, but literally prohibitive. Mask and glove mode, completely different rules for registering passengers and carrying baggage, a minimum of flight comfort ... Let us consider all these points in more detail. Everything will begin, for sure, with the fact that the already "not very inspiring" procedure, which is not too inspiring for many, will turn into a real quest with the passage of many obstacles and mandatory "control points". First of all, you can forget about the long and crowded queues for check-in and baggage claim. Social distance! At a minimum, at airports there will be special delimiters designed to provide it (lines and marks on the floor are not exactly limited), racks for communicating with customers, equipped with impenetrable barriers and the like. It is possible that special zones will also be introduced for sanitizing travelers - for example, using ultraviolet radiation. Without a doubt, a check will be made on the health status of those who are about to go on a flight. Temperature screening is a minimum. It is much more likely that airports will begin to conduct rapid tests for coronavirus. By the way, Emirates Airline is collecting blood from passengers before each flight now ...
You didn't come here to eat!
Of particular relevance will be the "non-contact" flight check-in method using biometric data. What is simpler - I went to the automated rack, "presented" my face for scanning - and go through. Or not ... such
technology
Today, such major carriers as British Airways, Qantas, EasyJet use it. One of the world's leading "air gates" - British Heathrow, American John F. Kennedy Airport, Singapore Changi - is actively preparing for the transition exclusively to online registration and payments. Most likely, they will not be allowed to meet or escort to the airport terminals at all - only passengers. All baggage will be handed over on a flight, probably by them, and at the same time undergo indispensable sanitation in special "disinfecting tunnels". Some of the most zealous supporters of total security suggest, in order to increase it, to remove all recreation areas for passengers from airports and even abandon escalators, limiting themselves only to stairs. It is clear that with such a level of service and a huge number of "cute" pre-flight procedures, the check-in process risks being delayed for four, or even five, hours. Yes, and the intervals between flights will become longer - because before filling the liner, and after its landing, each aircraft will undergo complete disinfection. However, the ordeal of passengers will not end there. The "draconian" rules of the world airlines that previously applied to hand luggage allowed to be carried into the cabin of a ship will seem to all of us the height of democracy - most security experts insist on its complete ban. Some (for example, officials of the European Commission developing new rules for air transportation) are ready to resolve the "absolutely necessary minimum", but no more.
"Fish or chicken"? Forget it! From now on, one won't be able to have a meal - lovers to eat should do this in advance and for the future. In the best case, served on board ships will be hermetically sealed snacks and drinks, and even then not all carriers. Some plan to give up any food in the air. Iron Logic: "Why did you come here ?! Fly? Well, so fly, and you'll burst at home ... "However, this is something else - recently published by Ryanair, which plans to return up to 1% of its liners to the sky from July 40, the new rules of transportation clearly specify a trip to the restroom" only with permission flight attendant. " Obviously, and under his escort ... By the way, they will feed there - but only those who pay with a plastic card. "No cash!" - This principle is likely to become now common to all civil aviation. Well, and finally - the mask. Now without them, no way. Apparently, the vast majority of airlines and airports serving flights will strictly prohibit being without them both in terminals and on board aircraft. Okay, on some local line where the flight lasts an hour or two. But what will it be for those traveling between the continents? In the United States, by the way, a wave of passenger riots is already expected in this regard. Based on this, they are already thinking over how to soften the "mask regime" as much as possible. So, in American Airlines (AAL), the passenger will most likely not be allowed to board with his face uncovered, but in the cabin the requirement will already lose its categorization. Representatives of this airline, as well as their colleagues from the United United (UAL) and JetBlue (JBLU), acknowledge that flight attendants will "recommend wearing masks" rather than requiring constant presence on their faces to "avoid confrontation with customers". At the same time, the European Air France and KLM have already announced a "strict mandatory mask regime." They are also thinking about dressing crews of liners in protective suits. Stewardesses looking like astronauts! What have we survived ...
Of particular relevance is the question of how much it will cost to comply with all the listed security measures, and, possibly, other similar innovations that "inquisitive minds" of European bureaucrats can come up with. A complete re-equipment of airports, which is still on the agenda, blocking medium seats on airplanes, automatically reducing their capacity by a third, tons of antiseptics, millions of protective masks and gloves ... All this will inevitably result in enormous costs that simply cannot but affect the cost of air tickets! Carrier companies, which are already balancing on the verge of bankruptcy, or have technically already crossed this line, simply cannot work at a loss. Yes, in the initial period a serious "help" for civil aviation, according to experts, will be oil prices that have fallen below all conceivable limits, and, as a result, cheaper fuel for aircraft. However, this has not lasted a century, and almost "gratuitous" oil does not automatically mean the equally low cost of fuel received from it. Most likely, at the initial stage of the resumption of flights, when the main goal is to reverse the fear of potential passengers in this way of travel, the cost of tickets will indeed be low. The very same Ryanair, as far as is known, threatened to take on board the first daredevils for a nominal fee of 99 cents ... However, in the end, as aviation industry analysts believe, it expects a rise in the cost of services - up to double the level.
However, all this is so far only forecasts. The vast majority of the civilian air fleet of all countries continues to be in a pandemic-induced downtime. We can only hope that this nightmare will end soon and we will again be able to hear the long-awaited "Fasten your seat belts!" To soar into the sky, which is still closed to us. Well, and with the new rules, prohibitions and restrictions, somehow you have to get used to it ...