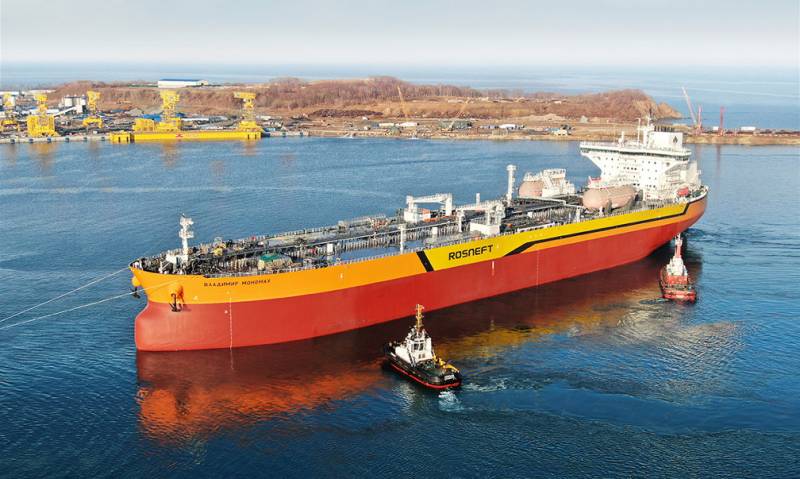 On May 12, the tanker Vladimir Monomakh was launched. This is the first Aframax class vessel built at the Zvezda shipyard in the Far East. The 250-meter giant, designed to transport oil in an unlimited area, is a real victory and pride of our country. And that's why.
Firstly, a new generation Russian tanker received an engine operating on LNG. In comparison with similar vessels operating on heavy fuel, Vladimir Monomakh emits significantly less harmful substances into the atmosphere. In particular, sulfur and soot are 100%, which is extremely important today, given the tightening of international rules governing the sulfur content in liquid marine fuel.
Secondly, Vladimir Monomakh is the first LNG tanker built in Russia. Previously, such ships were ordered exclusively at Korean shipyards. And, despite the fact that this Aframax partially consists of foreign components, further localization requirements will be tightened. Starting from the 10th vessel, all tankers of this class will be completely domestic.
It is worth noting that Vladimir Monomakh is not the only Russian LNG-powered vessel. In February, at the Zelenodolsk plant them. Gorky (Tatarstan) was laid passenger river ship "The Seagull", also operating on liquefied natural gas.
Regarding Zvezda, it is estimated that 200 different watercraft will be built here, including the Leader icebreaker. At the same time, an unfinished shipyard provides jobs for about 6 thousand people, and in the coming years another 10 thousand jobs will be created here.