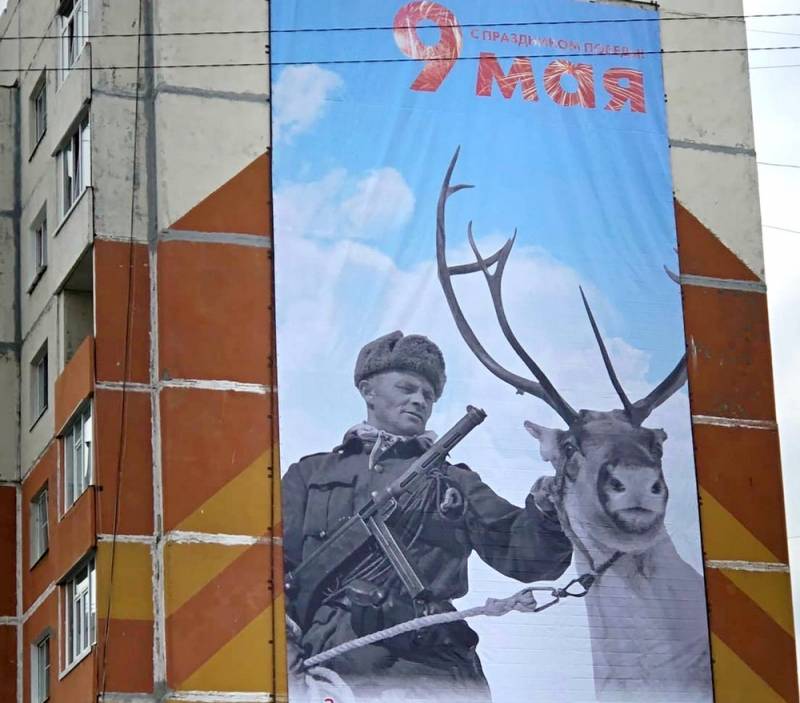 Readers of the Finnish newspaper Ilta-Sanomat commented on the situation with the error on the scandalous street congratulations on May 9, which appeared on the eve of the Komi Republic. Recall that in the city of Usinsk, a huge banner was hung on the wall of an apartment building, which instead of a Soviet soldier in the Arctic shows a Finnish fighter in Lapland.
The authorities have already acknowledged the mistake, and promised to punish those responsible.
Reader Comments:
That was right. It is good that Russia has learned to recognize the merits of Finnish soldiers!

This Finnish photo fits perfectly into the poster for Victory Day in Russia, as Finland won the battle against the Soviet Union, repelling a major offensive in 1944. In the end, there is nothing wrong with celebrating a common victory among neighbors: the Soviet Union crushed Germany and Finland rebuffed the Soviet Union. Both won. The goal of the Soviet Union was to conquer Finland both in the Winter War and in the continuation war [...] So the photograph on the poster was more than appropriate.
The Finns thank you for the recognition that our soldiers have received. But even in the East, it's time to focus on today instead of looking for joy in Victory Day.

They just don't have photos of their own deer soldiers.

"... the guilty are punished" So typical of Russia. I noticed that when something happens in Russia, the first thing is announced: "the guilty will be punished." [...] I wonder for such a "crime"?

They would have similar zeal to look for those responsible, for example, in illegal territorial seizures, or in the use of soldiers without identification marks, as well as the destruction of a civilian aircraft,
political
murders, pressure on journalists, money laundering, etc.
This is a tribute to the Finnish soldier who fought for freedom and democracy.

Glory to the Finnish army!

The people of Finland thank you for this recognition.

Yes, Russians must respect Finnish soldiers.

There is nothing wrong with this poster and text. Defenders of Finnish independence deserve all respect on both sides of the border. I do not understand what is now so upset Russia.

Also, a number of commentators expressed the opinion that some "Finnish compatriots" in Komi may be involved in the incident.