The three-month transition of the Akademik Chersky crane-assembly pipe-laying vessel from the Sea of ​​Japan to the Baltic is already behind. Marine monitoring resources and navigation services confirm that KMTUS is anchored 30 km from the city of Baltiysk (Kaliningrad Region) in the Gdansk Bay of the Baltic Sea.
It should be noted that on May 1, 2020, the vessel passed the place of laying the Nord Stream-2 gas pipeline. According to the automatic identification system (AIS), it elegantly passed between the Danish island of Bornholm (supposedly this island in ancient Russian legends is called Buyan) and mainland Sweden.
Then, accompanied by the rescue tug SB-123 (project 02980) of the Baltic Fleet, the ship headed for Baltiysk. At the Baltiysk raid, it should replenish fuel and food supplies, as well as take on board additional crew members.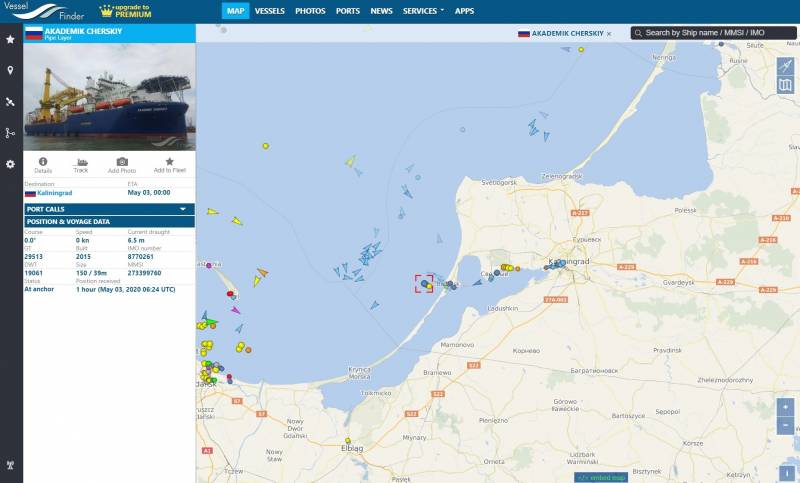 The appearance of the ship in the Gulf of Gdansk caused a violent and sometimes inadequate reaction in neighboring Poland. Local social networks were overwhelmed with a variety of patriotism, Russophobia and all kinds of curses. Moreover, the Poles even pointedly directed towards the "Academician Chersky" boat SG-111 of their "mighty" Navy. But closer than 10 miles, the Polish boat did not prudently approach the Russian ship. However, this was the end of their entire ambition.
It should be added that it is not yet clear whether the "Academician Chersky" will call at the port of Kaliningrad in general. Perhaps it will go to retrofit welding equipment to St. Petersburg, and only after that will begin to complete the construction of Nord Stream-2.