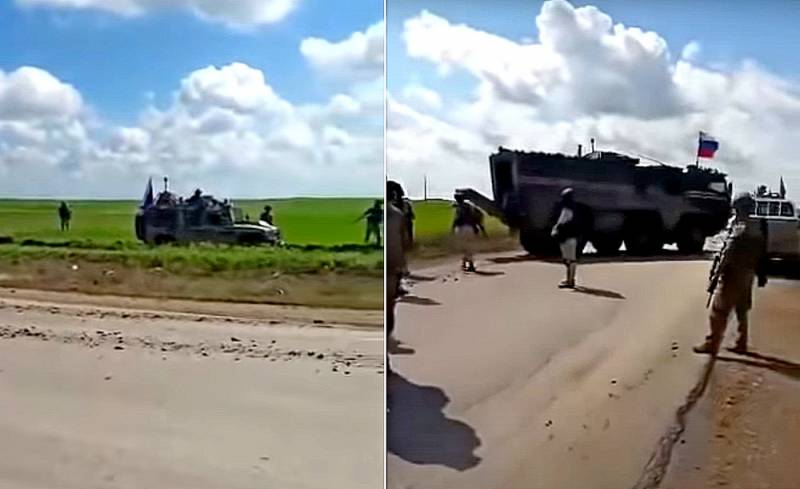 Syria is currently a place of military confrontation between several powers, including Russia and the United States. Despite the fact that both states are fighting against terrorists and, logically, should cooperate, annoying incidents are often between the military of the two countries.
So, in February of this year, the Russian armored Tiger car followed, accompanied by three armored personnel carriers, in the direction of Amuda in Hasaka province. Several US armored vehicles were moving towards them. Suddenly, American transport began to push the Russians to the side of the road and then onto a muddy field. As a result, Russian cars got bogged down. Why did it happen?
Edition "Military Review"
believes
that the US military intentionally chose a place where the soil was the most loose - Russian armored vehicles buried themselves even deeper when they tried to get out. Powerful engines of the "Tigers" led to the fact that the wheels did not pull out
machinery
on solid ground, and more and more stuck in a viscous environment. As a result, the more high-powered "Typhoons-K" came to the rescue, pulling Russian equipment out of the furnace trap under the malicious looks of the militants and the US military.
Some experts say that the Americans deliberately annoy the Russian military on Syrian soil to show who the real master of the situation is. US troops want to demonstrate their influence in the region both to the Syrians, who, in the person of the official head of state Bashar al-Assad, have invited the Russian Armed Forces to fight terrorism, and the whole world. According to the Americans, the Russians are thus given a third-rate role (after the United States and Turkey, respectively).
The Russian military is provoked into an open conflict, in order to inflate a scandal of unprecedented proportions in the world media. Of course, it is impossible to follow the presumptuous military overseas, but Americans should not ignore such provocations.