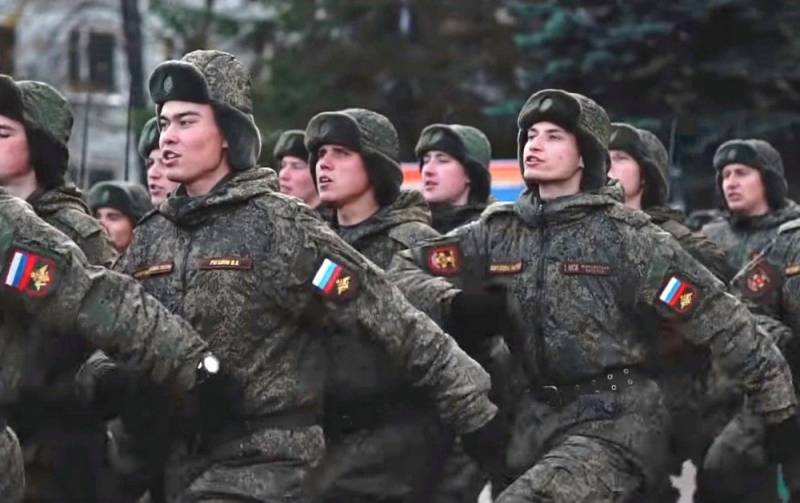 Users of social networks discuss a video in the frames of which young people dressed in the combined arms form of the Russian Armed Forces shout strange words. The specified video was published on the little-known before this YouTube channel "Ascent".
Under the video it is specified that it was shot in one of the military units of the Kaliningrad region. It is indicated that during the construction, the natives of Chechnya forced the soldiers to chant various slogans and call them "Chechen comrades." It is explained that where and when this video was shot is unknown. It is emphasized that according to the legislation of Russia, the authorities of the unrecognized Chechen Republic of Ichkeria (CRI) are included in the list of terrorist organizations, and participation in them is criminally punishable.
The footage of the video shows that on the sleeve of one of the young people standing in front of the formation, in addition to the Russian flag, there is a patch resembling the flag of the Chechen Republic. At the same time, another young man, dressed in a tracksuit, welcomes the formation, standing in the hallway, holding his hands in his pockets.
Hello comrades!
- he said.
Hello, comrades Chechens!
the nine-man line responded to the greeting.
Who do you serve?
- asked the young man in a tracksuit.
We serve Ichkeria!
- answered the system, in which only one person was in a headdress.
After that, the video showed how a group of servicemen walks on the parade ground. It repeated the same thing - "To whom do you serve?" - "We serve Ichkeria!".
We remind you that for some time young people from the Chechen Republic were not called up to the Russian Armed Forces. If this video is genuine, which is still doubtful, then this is an occasion for the relevant state bodies of the Russian Federation to become interested in this case.