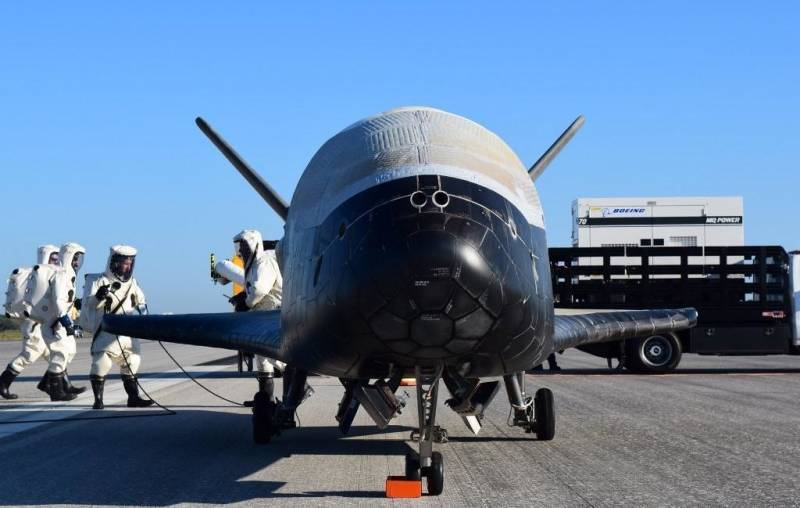 The American company United Launch Alliance begins preparations for its Atlas 5 launch vehicle for the next launch of the X-37B military spacecraft (spacecraft). It is reported by the American specialized online publication Spaceflight Now.
On April 30, 2020, ULA specialists lifted the first stage of the Atlas 5 LV to a mobile launch platform at Cape Canaveral, having begun preparing it for the flight, originally scheduled for May 16. The first step, 107 feet (32,6 meters) high, was delivered to the ULA Integration Center and raised to a vertical position by a crane. It is equipped with a Russian-made RD-180 engine.
Soon, the ULA team will add the second Centaur to it. After installing this, a series of checks and tests will be carried out and in early May, laying of the payload under the fairing will begin.
However, the planned launch date has already shifted by four days - on May 20, 2020. However, the exact start time has not yet been announced.
In the arsenal of the military, there are two X-37Vs from the Boeing company. These are reusable devices designed to operate in low Earth orbit for many years. They are launched using the launch vehicle, and they are landing independently on a standard runway.
The X-37B is in the shape of a small space shuttle. This is a robotic spaceship that flies without a crew and can carry small satellites and other payloads inside its compartment the size of a pickup truck.
This launch will be the sixth flight of the X-37B since 2010. The last X-37B mission, which lasted more than two years, culminated in a landing at the Kennedy Space Center at the end of October 2019. Four X-37B missions were carried out using the Atlas 5 LV, and one on the SpaceX LV Falcon 9.
We remind you that Atlas V fly on Russian RD-180 engines. In 2020, 6 such units should be delivered to the United States. Recently, the head of ULA Tori Bruno
wrote
in his Twitter account that the Russian RD-180 rocket engine is a technological miracle. But what is the expediency of selling rocket engines to the Americans, with the help of which they implement their secret military program directed, including, against Russia, we cannot understand.