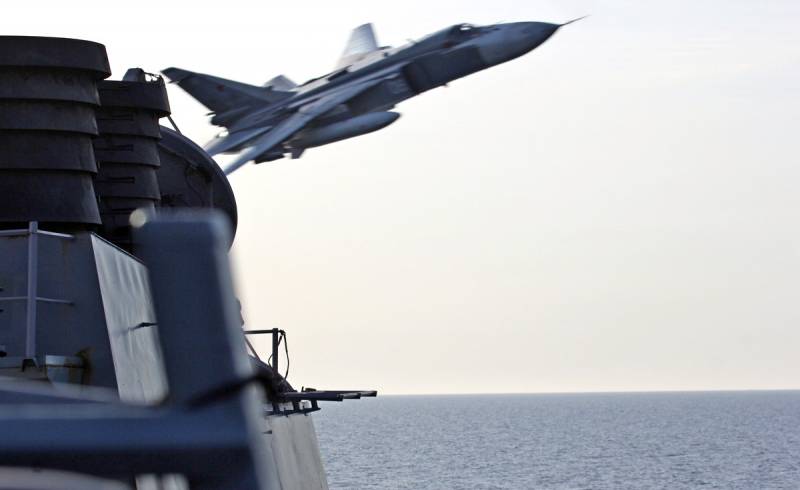 In Russia, the attention of the media and the public is attracted by periodically committed "overflights" of the American warships of the Russian Aerospace Forces. The greatest resonance at the time was caused by the Su-24 raid on the US Navy destroyer Donald Cook, after which allegedly dozens of crew members wrote a report on dismissal.
The Polish edition of Defense24 claims that this message was false, and believes that such a "bravado", encouraged by the "stubborn command", forms very dangerous misconceptions. According to its authors, the Su-24 cannot constitute any real threat to the Arleigh Burke class destroyer, representing his team's interest in the old plane only as a "museum exhibit".
At first
In a real battle, there will be no one-on-one collisions. Destroyers of this class act as a team, guarding aircraft carriers and helicopter carriers. AWACS and E2D Hawkeye observation aircraft will warn in advance of the approach of Russian aviation.
Secondly
, even break through the Su-24 to the American destroyer, it will be in the zone of defeat of the world's best naval combat system "Aegis". Its capabilities will not allow the effective operation of Russian aircraft. Aegis has been created and improved over the past 30 years, and, according to Defense24, the Russian Defense Ministry does not have a proven solution against it. Russian aviation can be detected at a distance of 400 kilometers, and destroyed already at 300 kilometers.
Thirdly
According to the Poles, naval aviation Su-24 bombers are not equipped with modern anti-ship missiles. The missiles available in the arsenal require continuous guidance by the pilot of the aircraft. Uncontrolled bombs to destroy the destroyer class "Arly Burke" is almost impossible.
The publication notes that only coastal missile systems "Ball" and "Bastion" pose a real threat to American ships. But against them, the Aegis system will be enough, with three modern AN / SPG-62 radars and missiles capable of shooting down even the Russian Onyx.
The findings of Defense24 may be discouraging: Su-24 aircraft fly freely over American ships, not because they are so elusive and have well-trained pilots, but because the Americans allow them to do this.