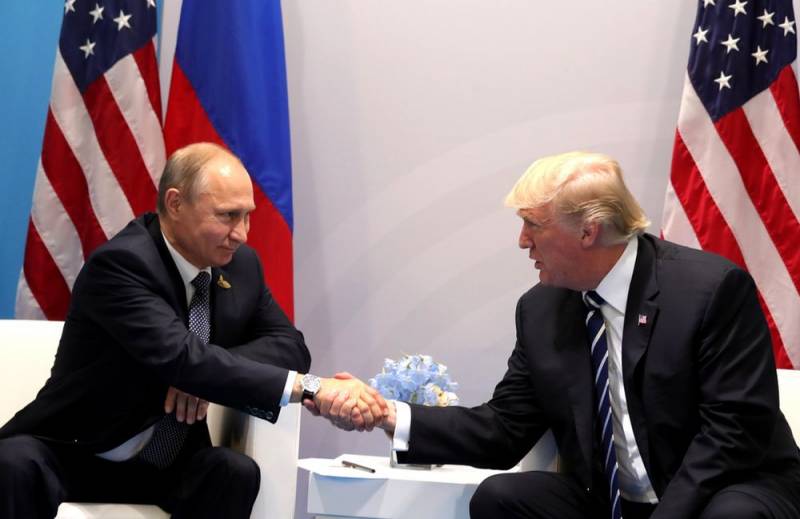 A joint statement by Russian leader Vladimir Putin and US President Donald Trump on the occasion of the 75th anniversary of the Allied meeting on the Elbe provoked a mixed reaction in the United States. The American newspaper Wall Street Journal even reports of disputes in the ruling circles of the United States.
The joint statement said that "The Spirit of Elba" is an example of how both countries can, putting aside contradictions, build trust and cooperation in the name of a common goal. However, the initiative of the leaders of the two countries caused concern among some parliamentarians and employees of the US Congress. At the same time, part of the White House administration is worried that this could nullify Washington's "tough signal" to Moscow.
I am sure that this was a Russian initiative. Putin wants the United States to confirm that modern Russia, like the Soviet Union, is a great power
- the newspaper quotes the words of the director of the Center for the Study of Eurasia, Russia and Eastern Europe at Georgetown University and the author of the book "Putin's World" by Angela Stent.
In turn, the "especially gifted" American journalist David Frum, the speechwriter of former US President George W. Bush, asked himself an interesting question in his Twitter account. Why is Trump celebrating the anniversary of the meeting of the Allies on the Elbe with Putin, and not with Ukrainian President Vladimir Zelensky?
Soviet troops who met with US forces on the Elbe on April 25, 1945, were part of the Soviet First Ukrainian Front
- emphasized Frum.
In this regard, we would like to remind Frum that the 1st Ukrainian Front, as the operational-strategic association of the Red Army of the USSR Armed Forces, was formed in October 1943 on the basis of an order from the Headquarters of the Supreme High Command by renaming the Voronezh Front. Then Voronezh was already liberated and it was time to free Ukraine from the Nazis.