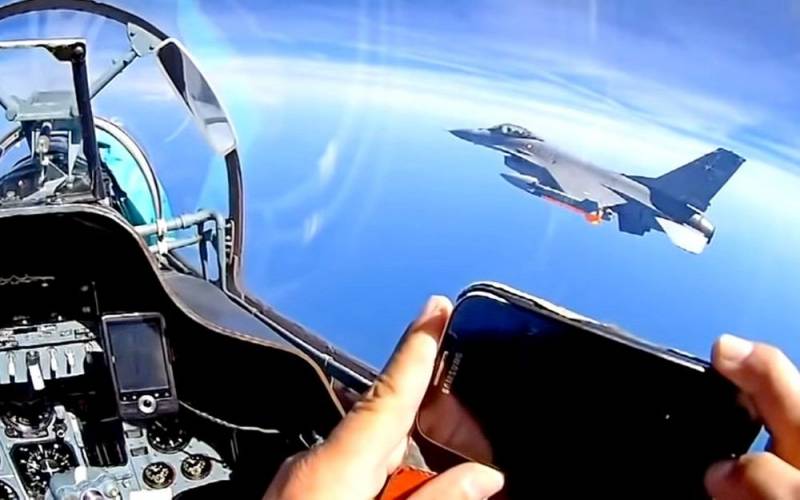 On April 24, 2020, Russian naval aviation made scheduled flights over the international (neutral) waters of the Baltic Sea and revealed an air target flying to the Russian border. After that, a pair of Russian multi-purpose all-weather supersonic Su-27 heavy fighters, which provided cover in the area of ​​the exercises, went to intercept the target.
This was reported in the press service of the Western Military District.
It is noted that the Su-27 identified the target as a F-16 fighter of the Belgian Air Force. After that, the Russians took the "guest" from NATO for escort. The published footage shows how the VKS fighters "jammed" the enemy's aircraft from two sides, creating an extremely uncomfortable situation for him.
Flights of Russian aircraft were carried out in strict accordance with international airspace use regulations
- emphasized in the press service.
We remind you that planes and drones of NATO countries and allies of this "peace-loving" bloc regularly appear at the air borders of Russia. The Russian Defense Ministry has repeatedly called on the "partners" to stop such intelligence operations, but they refuse to do so. At the same time, a video of the above "meeting" of the Su-27 pair with the F-16 in the sky over the Baltic has already appeared on the Web.
Recently it was reported that the pilot of the Russian supersonic high-altitude all-weather fighter-interceptor MiG-31, while escorting the Tu-95MS turboprop strategic bomber,
talked
gestures with the pilot of an F-16 fighter of one of the NATO countries. And before that, in Lithuania the Belgian Air Force F-16 fighter was raised by alarm. It was aimed at intercepting a pair of Russian tactical front-line bombers Su-24, which
were heading
to the destroyer "Donald Cook" (USS Donald Cook) US Navy in the Baltic Sea.