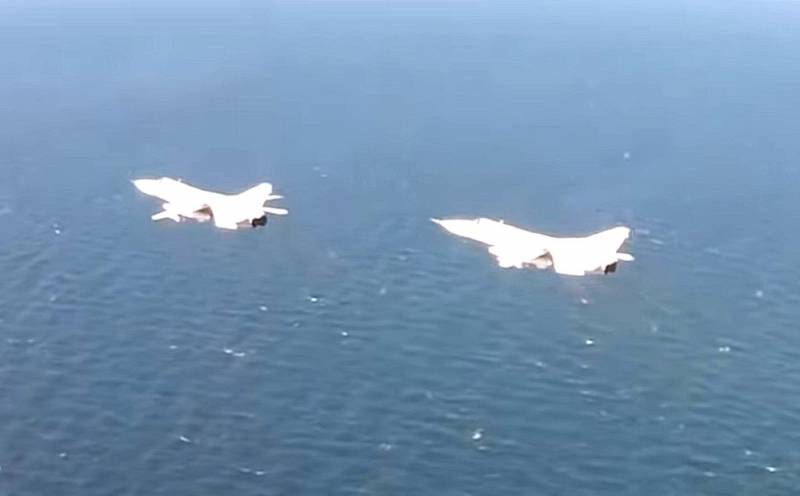 The Baltic Air Force F-16 fighter, based in the Baltic states, was alerted and sent to intercept a group of Russian tactical front-line bombers Su-24, which were sent to the USS Donald Cook destroyer in the Baltic Sea. This was reported by the press service of the NATO bloc, posting a video and clarifying that the incident occurred on April 17, 2020.
A group of Russian fighters appeared in the sky above the Baltic Sea. The planes were approaching the destroyer "Donald Cook" of the US Navy. For interception from the Šiauliai airfield (Republic of Lithuania), the Belgian Air Force F-16 fighter was raised. He intercepted a group of Russian Air Force fighters over the sea
- said in a statement "peace-loving" Alliance.
It is noted that the mentioned video was shot from the F-16 cockpit, which is located in Lithuania as part of the "mission to protect airspace on the eastern flank of NATO (Baltic Air Policing)". The footage shows how the F-16 accompanies Russian aircraft, including two Su-24s, armed with X-25 air-to-surface missiles. The video was accompanied by praise to the Belgian pilot and a statement on the readiness of NATO aviation, located in the Baltic states, to perform tasks 24/7.
It should be recalled that the American destroyer Donald Cook is not the first time appearing in reports related to the Russian Su-24. For example, in April 2016, the Americans announced that a pair of Su-24 allegedly swept over this ship at an altitude of 30 meters. Moreover, the Russians allegedly scared the Americans for two days in a row. Then the Americans called the behavior of the Russians "not in accordance with the accepted standards of behavior of the armed forces in international air and sea spaces."
At the same time, the Americans do not specify that their warships generally "forgot" in the Baltic near the borders of Russia. We remind you that according to the repeated statements of the Russian Ministry of Defense, Russian planes carry out their movements in international airspace only in strict accordance with existing rules.