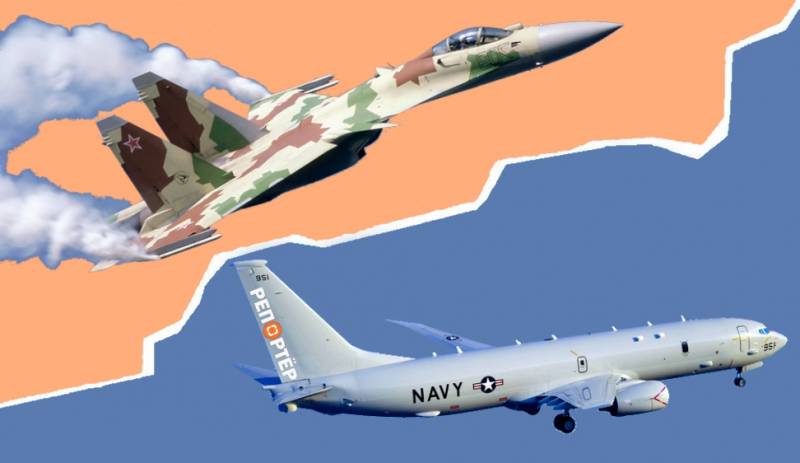 The U.S. Navy reported an incident in the sky over the Mediterranean Sea. The Russian Su-35 fighter got too close to the US anti-submarine aircraft R-8, carrying out incomprehensible maneuvers.
Representatives of the 6th Fleet noted that within 100 minutes the Russians approached the American submarine hunter twice at a distance of 25 feet (about 7,5 meters). And for the second time, the R-8 experienced turbulence.
Readers of the Fox News website website reacted very violently to the air incident.
The Russians probably sent their only fighter to intercept. After that, he will be under repair for several weeks.
- the user with the nickname lars123503 is sure.
If the Russians sneak up behind, just flush the toilet. I don't know if this can be done on an anti-submarine aircraft, but if they could ...
- "joked" TooManySecrets527, apparently not knowing that on liners for more than 70 years there has been a special tank for collecting human vital products.
It would be necessary to use drones for such reconnaissance flights, otherwise the Russians scare our pilots too much. We will save our pilots for more important missions
- recommended by DoneBeingNice.
Shoot down one Russian plane, and then such incidents will stop. Such a move will not grow into a global war.
Policy
sort things out
- suggested a dangerous option reader RowdyNCross.
Russians often do something like that. I think they say in this way: "Well, what will you do?" Such is Putin - it's better never to turn your back on him
- writes Dispatched.
Our fleet must stop provoking the Russians. However, such missions should always be accompanied by F-22.
- Nawlins31999 considers.
Why is Russia acting as if it is still a superpower?
- Valsore user is outraged.
The F-117 fighter would be invisible to the Russians, and can fly at a speed of almost 700 miles per hour
- Victor333 is sure, hinting that this particular plane should have been sent to meet with the Russian Su-35.
As you can see, the American audience is behaving quite aggressively. However, the appearance of US Air Force scouts at the borders of the Russian Federation is also accompanied by quite militant statements by Russian users who regularly call for the destruction of American aircraft even in international airspace. Fortunately, neither one nor the other are in the power circles of both countries ...