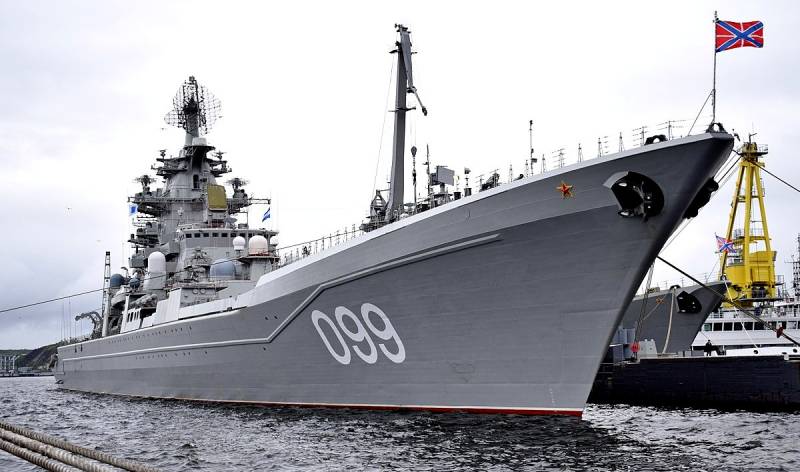 Along with the world's largest submarines of the Shark class, the Russian fleet also has the heaviest and most powerful cruisers of the 1144 Orlan project today, writes the American Military Watch magazine. Designed in the 70s, these cruisers with a displacement of 28 thousand tons are even larger than some modern aircraft carriers, such as the French Mistral or the Japanese Izumo.
"Orlan" is equipped with a nuclear power plant, which allows it to go at a speed of 32 knots, and at the same time over long distances. This ship is ideal for projecting power in various parts of the oceans.
Currently, two of the four built cruisers of Project 1144 are withdrawn from the Russian fleet. These are Admiral Lazarev and Kirov. The remaining Peter the Great and Admiral Nakhimov will be modernized. Ships will significantly increase their firepower. They will receive up to 80 Caliber, Onyx or Zircon missiles, as well as the modern S-400 air defense system.
Nevertheless, the Russian fleet refused two "Orlanes" and there are reasons for that. The military leadership concluded that ships of smaller displacement, such as frigates of the Admiral Gorshkov class, could carry greater striking power in proportion to their size than huge cruisers. In addition, new ships are built using modern
of technologies
, providing less noticeability on enemy radars, which is especially true in the context of the dimensions of bulky nuclear cruisers.
Not the least role was played by operating costs. Nuclear cruisers are extremely expensive to maintain and require more than 1000 crew. For comparison, the crew of "Admiral Gorshkov" is only 170 people.