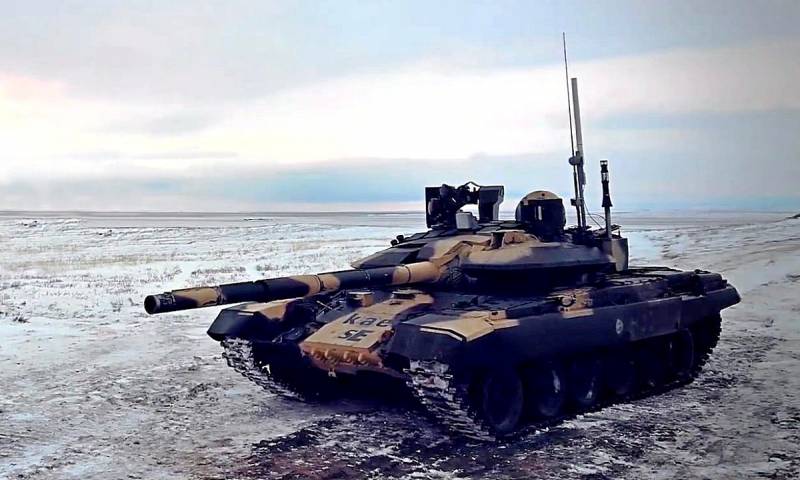 A new version of the T-72A tank was demonstrated in Kazakhstan. This is a joint product of Semey Engineering JSC (the former 349th BTRZ in Semipalatinsk) and the Turkish company Aselsan represented by Kazakhstan Aselsan Engineering LLP. This tank, called the T-72KAE, was already shown at the V International Exhibition of Arms and Military-Technical Equipment KADEX-2018 in Astana, but without any particular details.
The new version of the T-72A received advanced communications equipment for the VHF band. They are compatible with Soviet / Russian VHF carried radio stations of the R-173 "Paragraph" divisional radio networks and tank R-123 "Magnolia" and their modifications.
An advanced fire control system (LMS) with a thermal imaging sight of the gunner-operator CFCS, a digital ballistic computer and a built-in target tracking automaton also appeared. It is clarified that this increased the range of night fire to 3,5 km.
At the same time, the tank commander had a stabilized remotely controlled SARP combat module with a 12,7 mm machine gun and -30 ° / + 60 ° vertical angles and 360 ° horizontal rotation. The mentioned SARP can now be used as a panoramic surveillance device.
We also thought about the tank driver. He got a thermal imager with a TV channel. The tank itself was also taken care of by installing dynamic protection packages on the turret and frontal projection. On the sides of the tank installed anti-cumulative trellis screens.
In addition, a fire control radar appeared on the front of the tank's roof, and an unidentified optical device appeared between the mast with atmospheric firing sensors and the radio antenna. Therefore, it is advisable to wait for the official press release and clarifications from the tank builders.
Kazakhstan's modernization also boasts LCD screens in the cockpit. This, like a number of other new products, is not even in the most modern Russian modification of the T-72B3. However, we note that today the Ministry of Defense of the Russian Federation refused to further modernize tanks of this type, preferring the T-90M, a fresh batch of which will be first presented at the Victory Parade on May 9, 2020.