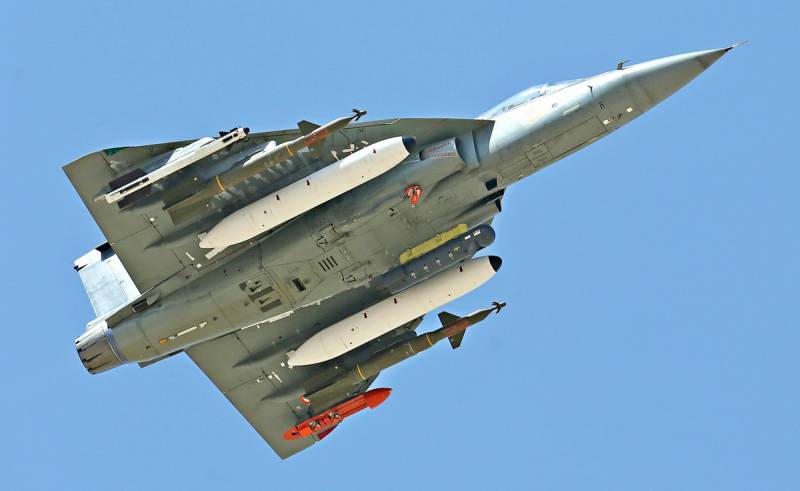 The fourth-generation Indian light fighter Tejas turned out to be very expensive and costs more than the fifth-generation Russian Su-57, writes the American edition of Military Watch. Its development began in the early 80s and only by 2019, the Indian aviation industry, represented by HAL, got to the national certification authority (FOC).
It is noted that the Indian Air Force intend to acquire another 83 Tejas fighter in the Mk1A version. This deal will be the second major order for this fighter after the previous 40 pieces.
It is clarified that this Indian fighter has a comparable weight range with the Swedish Gripen and Pakistani JF-17. At the same time, it is much lighter than the American F-16 Fighting Falcon and the Chinese J-10 Firebird.
The publication also found that despite the widely advertised program in India to support the domestic aviation industry and military-industrial complex, this fighter has many foreign components. For example, Indians buy the F404 engine (developed in the 70s of the XX century) in the USA, a set of sensors and electronics in Israel, as well as air-to-air missiles in Russia.
It is indicated that the Indians were developing a "low-cost" and light fighter in cooperation with a number of countries (from Sweden to Taiwan). As a result, they managed to adapt
Technology
other countries to their needs. However, Tejas costs the Ministry of Defense of India at $ 62,7 million apiece. And in the near future, India will need dozens of squadrons to replace the fleet of obsolete aircraft.
At the same time, the Americans recognized that this engine and electronics are the most expensive parts of the Indian fighter. Therefore, the export potential of these fighters is absent.
According to the publication, the American F-35A costs the Pentagon almost $ 80 million apiece, while it is offered for export for $ 200 million. In turn, the Russian Su-57s cost the Russian Ministry of Defense $ 35 million per unit, and they are offered for export for $ 110 million
At the same time, the Su-57 and F-35 are more serious and technologically advanced combat aircraft, while the Indian Tejas are average, and not at all strong.