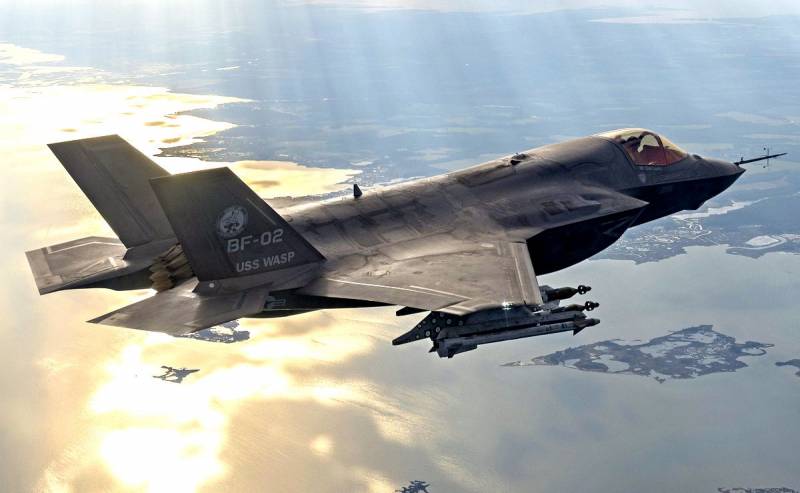 Recently, Polish "patriots" often wonder why the F-35A Lightning II "invisible" fighters purchased from American "partners" turned out to be significantly more expensive than similar products supplied for the US military. The local online edition of Defense24 tried to figure out why NATO allies pay more.
The publication cites the official response of the Pentagon, published in the American magazine Aviation Week & Space Technology on March 13, 2020. It explains why the Poles will pay a higher price for the latest fighter jet from the United States.
The cost of one F-35A unit for Warsaw was higher than for the US Air Force by 12%, i.e. $ 9,4 million (36,72 million zlotys). And this is despite the fact that Polish "invisibles" will be delivered from the 16th and 23rd parties, although they were set the price as for products from 14 lots (later batches are cheaper due to mass production).
At the same time, the Poles draw attention to the fact that due to the increase in production volumes, the cost of multifunctional "invisibles" should decrease, but it turned out the opposite. After that, the Poles decided to count the number of fighters of this type produced by the American corporation Lockheed Martin.
As a result, they found out that the corporation had already started mass production in the amount of more than 130 pieces per year. In 2020, more than 140 units should be produced. Moreover, it is planned that the maximum annual production of "invisible" will be 160-180 pieces.
Therefore, the final cost of the F-35A fighter should fall
- come to a logical conclusion in the Polish edition.
But why should Warsaw pay $ 9,4 million more per unit than the Americans? For 32 aircraft, this means a difference of $ 300 million!
- lament in Defense24.
According to the Pentagon, this is due to several factors. Firstly, the Poles pay for the mediation of the American government, which sold planes to Poland as part of the Foreign Military Sales (FMS) program (a kind of rollback - ed.). This in itself means a premium of $ 5 million apiece (a total of $ 160 million). Secondly, the remaining $ 4,4 million is the result of projected US dollar inflation.
In addition, the F-35A for Poland will have slightly different equipment than the American. But these differences are actually more symbolic. For example, we are talking about additional equipment with a brake parachute. This pleasure, together with a special fairing, will cost Polish taxpayers only $ 61 thousand apiece.
Polyakov is comforted by the fact that their F-35A will be equipped with an on-board computer with Block 4 software, i.e. same as for the US Air Force.
It should be recalled that Poland ordered 32 fighter jets and 8 training simulators, including logistics and full
technical
service until 2030. The amount of the contract was $ 4,6 billion. But this amount does not include weapons and adaptation of ground infrastructure.