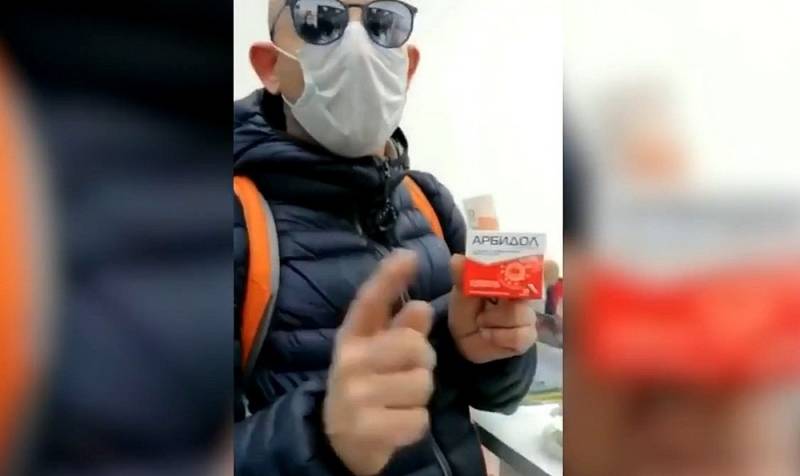 Two Italian tourists who visited Moscow told the public about the "famous Russian medicine for coronavirus." The video was published on the Web and caused unhealthy excitement in Italy, where the 2019-nCov (COVID-19) infection is rampant, taking more than 2 thousand lives.
It should be noted that in the video the Italian demonstrates the packaging of the drug "Arbidol", calling it the medicine for COVID-19. After that, this video became "viral" and began to spread rapidly on social networks.
March 17, 2020 to the representative office of the Russian news agency
RIA News
several Italian citizens have already asked in Rome about the existence of a "miraculous pill from coronavirus" in Russia.
The video was shot by two Italians on March 15, 2020 at the Sheremetyevo Airport (Moscow). However, the authors were not very worried about maintaining their anonymity. One of them even showed his ticket for the flight Moscow - Rome, where his details were indicated.
The Italians bought several packs of Arbidol in one of the pharmacies located at the airport. After that, they said that they now know the answer to the question why in Italy so many people died from coronavirus.
We don't have this medicine, but they have it.
- said one of the Italians.
From the video it can be assumed that Italians are really convinced that the presence of Arbidol is the main reason for the small number of cases of coronavirus infection in Russia. It is not known, which led to similar conclusions by Italians. But in the video they really say that Arbidol is a "famous remedy for all coronaviruses." Moreover, clarifying that "Arbidol" has been used in Russia for more than 40 years.
It should be recalled that before this, the Federal Antimonopoly Service (FAS) of Russia admitted violating the advertising of the drug "Arbidol", in which it was positioned as an effective tool against COVID-19. Therefore, video of Italians can be a provocation.