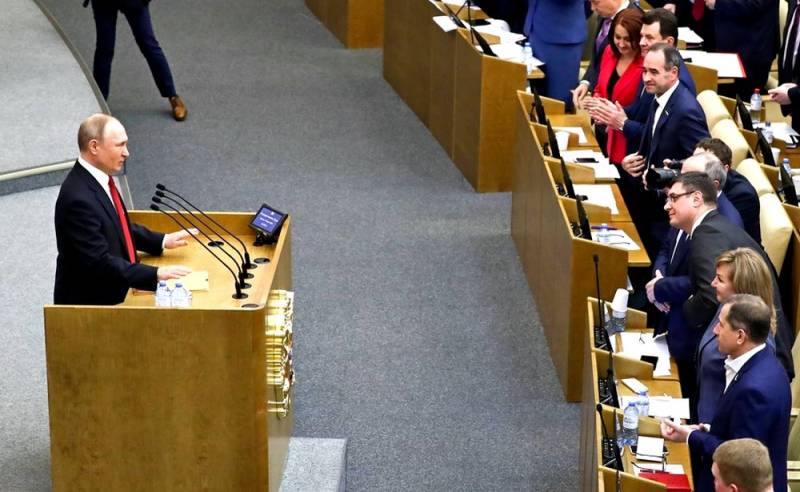 Yesterday's events on the political front in Russia pretty much bothered our Western "friends". After the State Duma received proposals on amendments to the Constitution, which, inter alia, imply zeroing out all the presidential terms of the incumbent head of state, Vladimir Putin, Western publications were criticized by the Kremlin.
The authoritative German magazine Der Spiegel, whose journalists were present in the State Duma hall, called the incident a "coup".
Putin became president again two years ago. Since then, Russians have worried about one question - "How long will he remain in power?" This worries both the security officials and the local elite, who are extremely dependent on the president, and those of the opposition.
politicians
who are waiting for changes in Russian politics
- writes the edition.
Now everything fell into place. The Kremlin has pressed the "reset button" and Putin remains in power. In theory, he will be able to run for president not only in 2024, but also in 2030. By the end of all possible terms, Vladimir Putin will be 83 years old.
The German audience, by contrast, reacted positively to the events in Russia.
Most Russians loved their Romanov kings and rulers such as Stalin, Brezhnev, or now Putin. And if the people of Russia approve these changes to the Constitution, that means it is. We had three chancellors who ruled the country for a long time: Konrad Adenauer - 14 years old, Helmut Kohl - 16 years old, Merkel - already 16 years old. In total, 46 out of 72 post-war years were ruled by just three people. Perhaps Putin will wait until 2030, until one of his daughters turns 40, then a "new dynasty" of rulers may form in Russia
- the user writes Heinrich.
What kind of indignation? At 84, life is just beginning! And then - 90, 96 ... Well, 102 years would be an exaggeration. But let's look at the USA: there is one 78-year-old who wants to become president (we are talking about Bernie Sanders - approx. Ed.)
- user exaggerates Dieter.
What is the problem if the Russians themselves decide this? Democracy is better than not having it.
- sure the reader under the nickname Bringfried.
It is worth considering what will happen after Putin. Unfortunately, I do not see the real candidates. Opposition does not count. Without him (Putin), Russia would have returned to the Yeltsin years, when the mayor's word weighed more than the president's
- argues Solnyevo.
We may not love Putin, but as long as the Russians elect him president, we must accept their choice and not interfere
- LuckySailor user considers.