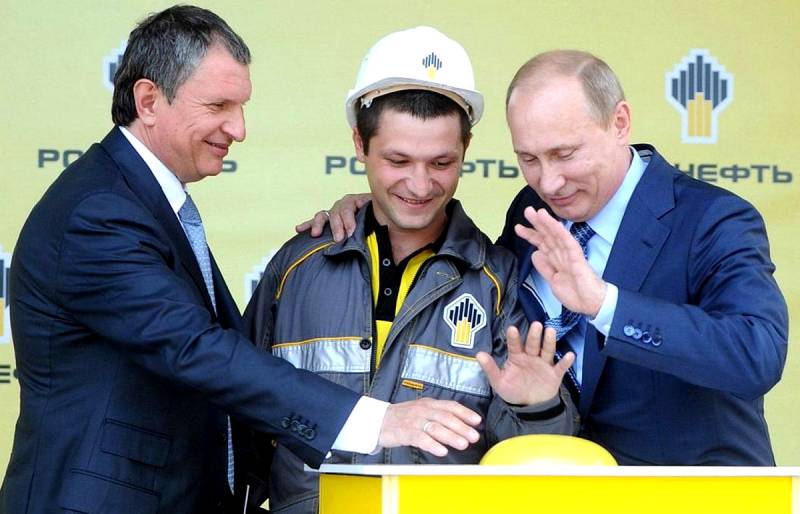 Widely discussed not only in our country, but throughout the world, the disruption of the large-scale reduction of "black gold" production proposed by the OPEC countries causes extremely contradictory estimates. Someone speaks of a "most dangerous mistake" in Russia, because it was our country that refused the Middle East monarchies a new agreement. Someone is trying to fantasize on the topic of "Russian cunning". And only the most cautious analysts allow themselves to assume that in this case we are talking about a balanced and reasonable step, whose true reasons should not be reduced to simple and lying on the surface motives.
As for the expected consequences, it is even more difficult to predict them. And yet we will try ...
What was wrong OPEC
Before starting a discussion of the reasons and motives for the "disobedience" that was shown by the Russian delegation during the last OPEC + meeting and made so much noise, we should at least briefly recall the main "balance of power" at the global level in the field of "black gold" mining. In the most simplified form today, these are three "whales", which are, firstly, countries that are members of the Organization of Oil Exporters, secondly, Russia, and thirdly, the United States. The rest is a fairly small audience, which does not have a real impact on world energy markets and does not have a price. It should be noted that, in fact, the "weight" of OPEC is falling every year - both due to the reduction in the number of its members, and due to the appearance on the arena of non-members, capable of leveling their actions
policies
of this "oil club". Qatar left the Organization last year, Ecuador left its ranks on January 1, and Libya and Iran, which are its members, have actually been removed from the list of real exporters of "black gold". At the same time, Russia, which does not belong to any OPEC, continues to be the world leader in oil production. And the United States, which does not want to hear about any international cartels at all and, accordingly, to coordinate its own policy in the field of energy production and export with anyone, continues to increase their sale from year to year, spitting on anyone else's interests except their own. Do not forget that the measures taken by OPEC in recent years to reduce global oil production have been directed, first of all, to counteract American expansion in this industry. But, alas, they not only turned out to be inconclusive, but led to consequences directly opposite to what was expected.
Why did it happen? The fact is that too many analysts at one time predicted the American "shale revolution", which overnight disrupted the usual oil "alignments", the end as fast as its sharp and unexpected surge. They say, they will play around, burn themselves and even abandon ... Such, as it turned out, very superficial and frivolous forecasts were based on
economic
calculations, according to which, given a sufficiently large drop in world prices for "black gold", the development of "shale" will at first become low-profit, and then completely unprofitable. And those enthusiasts in the United States who rushed in full accordance with the "great American dream" to amass millions of fortunes on the newfangled oil projects, either go bankrupt, or, convinced that this business is too risky, switch to something else. However, in OPEC itself, they began to take seriously the "shale" wave that flooded the world and treat it with apprehension back in 2018. Even then, in their reports on the state of the energy market, the organization's analysts admitted that the daily production of "black gold" by countries outside of it is growing much faster than they expected, ahead of preliminary estimates by hundreds of thousands of barrels per month, and the demand for oil continues to fall. And, again, at rates and volumes that far exceed even the most pessimistic expectations. Nevertheless, for some reason, OPEC decided that in order to counter the sudden threat that arose, it would be quite enough to reduce its own production by 1.5 million barrels per day and convince its partners to do the same, first of all - Russia. In this case, prices can be kept under control. It was not so ...
"Slate" is seriously
It should be noted that initially, when the "slate" from the USA confused all "cards" appeared on the markets, the voices of those who called to fight this invasion in a completely opposite way were heard. Namely, letting prices drop to such a minimum that, as mentioned above, will make its production unprofitable. As the "threshold" was called the figure of $ 45 per barrel. At the same time, analysts closely monitored the number of "shale" oil rigs in the United States - both newly opened and ceased operations, and carefully calculated how many mining companies there managed to collect debts beyond any reasonable limit. There were moments when it seemed: the "shale pyramid", which was drawing in investments with the speed and voracity of a good vacuum cleaner, would simply collapse, because of its own unprofitability, it would not be able to pay off loans. When, at the beginning of this year, because of the outbreak of the coronavirus epidemic in China, prices for "black gold" first crawled, and then flew down at a crazy speed, many held their breath in anticipation: "Now it will all crash!" However, nothing similar, unfortunately, did not happen. In the United States, the number of rigs as well as the volumes of oil pumped from the bowels are still growing steadily. In early March, the US Department of Energy's Energy Information Administration announced another record: 13-plus million barrels per day. This is exactly a million more than last year. Along with production, exports are growing. At the beginning of this month, he had already reached more than 4.15 million barrels per day, "surpassing" the figures for the same period in 2019 by one and a half million.
Today, the United States "spills" daily into the world market of "black gold" more than during the same time it is mined in the vast majority of countries of the same OPEC, with the exception of Saudi Arabia and Iraq. At the same time, the vast majority of American oil has shale deposits in 48 states of the USA in places of origin. The only "normal" oil pumped in Alaska does not show any increase in volumes. Despite the collapse in prices, the number of operating drilling rigs in the country has remained stable for a couple of months - about 680. An increasing number of analysts come to the conclusion that they will continue to work just as clearly and smoothly at 40 dollars per barrel, or even at 30. More Moreover, in 2020 it is forecasted to increase "shale" production by another 1.1 million barrels per day. Its "margin of safety" turned out to be much higher than it was originally seen. Moreover, there is
news
and worse: according to reports, having become convinced of the prospects of oil shale production, such giants as Chevron and ExxonMobil are determined to deal with it. The entry into the business of these transnational corporations, which have practically unlimited opportunities for investment, generally changes the situation in the most fundamental way. Even if we hypothetically imagine that now a wave of bankruptcies of small oil companies caused by a new, even sharper fall in prices for black gold will sweep across the United States, their sections will simply be taken over by TNCs, which can work for a while almost at a loss ( or even really "minus") in order to continue the expansion to capture markets. This will in no way bring down the position of the American "oil shale", but only strengthen them even more.
Will have to play for a long time
What Mikhail Leontyev, who expressed the official position of Rosneft, is a little more than 100% right, is that in the current situation every inch on the already shrinking, like the notorious shagreen leather world energy market that will be "released »The lack of supplies from Russia or the Middle East, immediately take the US oil industry. As a matter of fact, this is already happening, and this is far from the first month. At the same time, panic that is being intensely inflated by some people, like the statement by one of the owners of Lukoil about the terrible losses allegedly awaiting our country (either 100, or even 150 million dollars a day), are, according to experts either fortune telling on coffee grounds, or an expression of personal interest. The same Lukoil is preparing for sale and is afraid of losing in capitalization, while Novatek, which also criticizes the decision, does not want to lose in gas prices tied to oil. Sheikhs from Saudi Arabia or the UAE, threatening Russia with almost "oil jihad", also somewhat exaggerate their own capabilities, while minimizing the problems. The budget of our country at 40 dollars per barrel will certainly not flourish, but it will not collapse. At the same time, the same Saudis vitally need a price of 75-80 dollars for it. Oman - $ 75, the Emirates - about 60, and Kuwait at least 54 dollars per barrel. So who will "strangle" someone or "lead to humility" with low oil prices is still a very, very big question.
It is obvious that the game started in the United States. They will certainly not be going to torment their own land with hydraulic fractures while at least a drop of "black gold" remains in it. Everything is much more thoughtful, large-scale and, as American, meaner. In parallel with the crowding out of competitors from the market through its saturation and collapse of prices, there is a completely different activity. Americans have already "survived" such significant exporters from the world energy markets as Libya, Venezuela, Iran. After all, they are pressing us more and more with their sanctions! They would bomb with great pleasure, but the gut is thin ... Events in Syria, where the US military completely saddled oil fields, which, apparently, they are not going to leave, perfectly illustrate Washington's long-term strategy in this matter. Having expelled all (or almost all) competitors from the market, the United States will simply take over the main oil-bearing regions of the world, turning most of the "black gold" reserves on the planet into its property. And then they will leave the "slate" alone and enjoy life. I am sure that is precisely how they see the future. Do not forget that, in fact, the lion's share of really suitable for development deposits is in 10-20 pools of "black gold". At the same time, 70% of them were opened before 1970. New deposits are supposed only in the Arctic and Antarctic. And the rest, according to the Americans, is the time to "take and share." Not at all brotherly, of course.
The fall in world oil prices caused by the coronavirus epidemic, alas, cannot be corrected by any reduction in production. Will the epidemic turn into a pandemic? Will the global financial and economic crisis follow? Will oil prices collapse to an unprecedented minimum, or, after some time, skyrocket? These questions are still open. However, in any case, life on the planet will not end there. Behind the recession there will be a rise; after today's overabundance of oil, it will inevitably be deficient. This "long-term game", in which only those who can keep afloat their own oil industry and positions in world markets can win. Let's hope that our country succeeds.