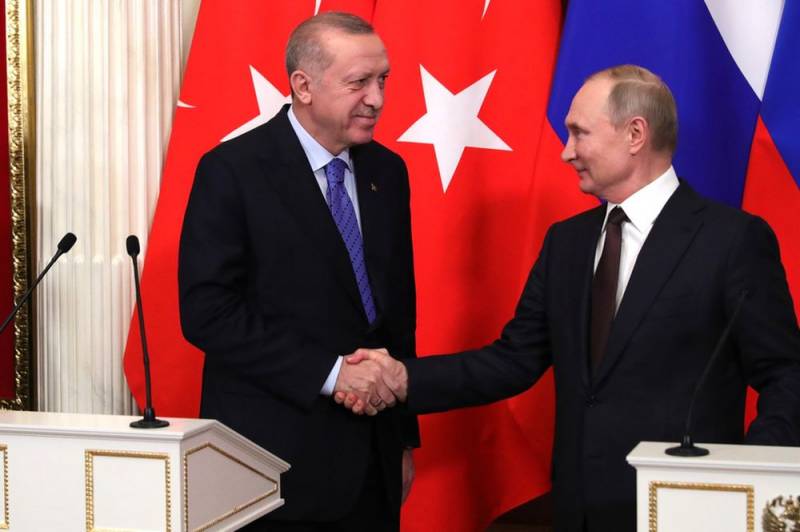 Recently reported as March 5, 2020 in the Kremlin
began
talks between Turkish President Recep Tayyip Erdogan and Russian leader Vladimir Putin to resolve the crisis in Syria. The communication of the heads of state turned out to be in the center of attention of world news agencies, and some media in the West came to the conclusion that Russia concluded a profitable deal for itself, having achieved all the desired goals.
The Turkish side retains control over part of the region, the Russian military police create a buffer zone. Such a scenario is based on an agreement reached a year and a half ago in Sochi, and it is in Russia's interests. Moscow has achieved its
- Declared on German radio Deutschlandfunk.
Deutschlandfunk noted that, since the fall of 2015, Moscow has achieved all the goals that it has set for itself in Syria. After which it was concluded that Russia, in the conflict in Syria, occupies a more advantageous position than Turkey.
At the same time, the French publication Le Monde believes that negotiations in Moscow can be called a failure for Ankara. At the same time, publication experts suggest that the agreement reached in the Kremlin may turn out to be fragile.
The contract was a defeat for President Erdogan, because he did not take into account his main requirements. The document does not say a word about the Turkish observation posts surrounded by the Assad regime and the refugees that appeared after the start of the fighting. Finally, Damascus reserves the occupied territory, although Ankara demanded the retreat of the Syrian forces
- says the material Le Monde.
In turn, the American magazine National Interest noticed that the agreement on Syria is completely contrary to the requirements of the head of the US State Department Mike Pompeo. Experts called the new agreement between Putin and Erdogan the "failure of the Turkish gambit" of Washington.
This agreement put an end to Pompeo's next attempt to conclude an American-Turkish alliance against Assad, which is supported by Iran and Russia.
- said in the material.
It should be recalled that on March 6, 2020, following talks in Moscow, at 00:00 Syrian time (01:00 Moscow time), a ceasefire regime began to operate in the Idlib de-escalation zone.